Brochure Layouts

A Quick Guide on the Types of Brochure Layout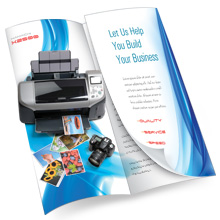 Brochures lay everything on the table regarding your business, thus maximizing your potential customer's attention span. By using a
brochure
set, you could grab the chance of being able to reach more people and effectively sending out the message to them.
To make the most out of your prints, you must ensure that the design appear professional and neat. This is why there are various design layouts (depending on the online printing company that would produce your order) to choose from. Each layout changes the feel and appearance of your marketing tools, allowing you to create designs that best draw the interests of your possible clients.
Among the many layouts available, there are popular types that help your tools to stand out from the rest. Below is a quick guide of the available layouts to help you decide the layout that would fit your project:
The Half-Fold Layout
Prints with the half-fold layout appear like custom greeting cards or folded postcards. This has two panels for each side, giving you a quite larger space for design and details. Although this layout type may look conventional, it works best on projects that boast a simple and elegant designs.
The Tri-Fold Layout
With the tri-fold format, you would have three panels for each side of your project, ideally with different details for each panel or portion. You'll also have more areas for the information that you wish to add but the width or length may not be the same as the half-fold. This would depend on the size that you wish to use.
The Z-Fold Layout
The third famous layout is the Z-fold, also known as the accordion fold. This layout is somehow similar with the tri-fold since you would also have three panels on each side. The difference can be found on the style of folding. Whereas the tri-fold layout uses the letterhead folding look, the Z-fold type makes your brochures appear like these are forming the letter Z.
Aside from the project, you should invest on the printing of your brochures as well. For this, you can depend the affordable and high-quality online printing services at PrintRunner. You could also find free brochure layouts on their printing options which is very convenient and suits your shopping experience.