Brochure Layouts: Types of Brochure Layout Guide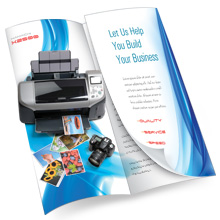 Brochures are timeless marketing materials. Its ability to lay everything on the table maximizes potential customer's attention span. Using these brochures you will be able to reach more people and effectively send out the message you want to convey.
Achieving effective brochures can be quite challenging. You should be able to make your prints look professional and neat. One way of making most of your prints is by choosing the appropriate and right layout for you. Each layout changes the feel and appearance of your brochures. This allows you to create designs that best draw the interests of your possible clients. Among the layouts available, there are popular types that can help your brochure standout from the rest. Below are quick guide of PrintRunner's available layouts. These will help you decide on your layout that would fit your project:
The Half-Fold Layout
Half-Fold Layout prints appear like custom greeting cards or folded postcards. Each print has two panels for each side. This gives a larger space for design and details. Because of its conventional look, this works best on projects that boost a simple and elegant vibe.
The Tri-Fold Layout
Tri-Fold Layout prints have three panels for each side with different details for each panel or portion. This will give you more space to put your additional information. The space size will depend on what your tri-fold layout size will be.
The Z-Fold Layout
Z-Fold Layout prints is also known as the accordion fold. This fold is similar to the tri-fold because it also has three panels on each side. What makes it different is its folding style. This fold makes your brochures' fold appear and form like a letter Z.
When you are done deciding on what kind of brochure layout you are going to print, the next step is to decide on your printing company. Check out PrintRunner's affordable and high-quality printing services. You can check out more articles and tips on our Learning Center