Advantages of Online Brochure Printing
The Pros and Cons of Printing Brochures Online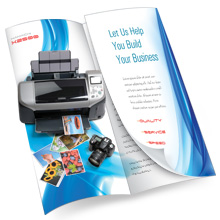 Brochures have been used in business promotions to maximize your market reach to people about your business at minimum costs. To avail of these marketing tools, you can instantly create your own set as long as you go for a trusted
online brochure printing
service.
If it's your first time to try out online printing, you might wonder about what it could really do for you. There are actually various advantages and disadvantages that this option could offer depending on the store. Still, there are those general ideas which would be good for you to know like the following.
Advantages of Online Brochure Printing
This printing service has a lot to offer especially when you are in hurry or you only have so little time to prepare your item. There are also certain factors that make this an ideal option when you want to have bulks in an instant. So when you are considering this choice, just remember these positive factors that would make you want to try the service:
Convenience in ordering
Delivered right at your doorstep
Affordable and professional printing
With added services
More printing options
Disadvantages of Online Brochure Printing
Like any other offer, you might find some issues when it comes to online printing. However, these things would normally depend on the store that would handle the job for you so do check these details:
Inconsistent number of days for delivery
Incompatible file format for online printing
Added charges on custom printing
Difficulty in communication
The disadvantages occur depending on the online printing company that you've chosen. It's always best to check the details first before settling with your chosen brochure printing service. Go for those that have been trusted by many for many years like PrintRunner.com. Find out more about our offers or read customer reviews to have an idea on how we handle your needed printing job.