Tips on Creative Business Card Design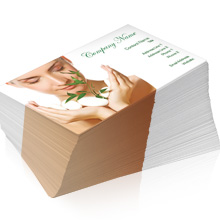 Converting your target market to become your customers can be challenging. One way of doing so is using marketing tools that are both creative and interesting. An example of this is business cards. Your business cards can be a determining factor in encouraging people to try and trust you.
Business cards are small but commanding branding tool. These can help you build strong relationship with your potential clients. Aside for the company name, the space of the card can be used for your contact details. This makes it easier for them to reach you.
One of the most important factors of these prints is its design and printing. Here are some tips that you can consider in creating your own creative business card design:
Project's Theme: Make a list of your design ideas that will serve as foundations for the theme of your cards. Remember that your theme should be in line with your brand identity since these cards will represent you. You can achieve this through using different shades of colors. If you are having a hard time doing this, you may check out samples online to get some ideas.
Design and Text: Avoid overcrowding the design and text. You should be able to balance everything since business cards are small. Creating balance on both details will ensure focus, clarity, and professional look. Start with a draft work. You can use a template for an easier placing of details.
Images or Graphics: Adding graphics will depend on your theme and image you want people to see you. This can help people visualize what you can offer. It also adds creativity and life to your cards. Remember that your images should have a high resolution of at least 300 dpi.
What are you waiting for? Try out these creative tips. Making business cards can be both fun and easy. You might even be able to design a set that would impress your clients and would also encourage them to contact you as soon as possible.
For more information about online printing, visit our Learning Center.