Business Card Design
Creative Business Card Design Ideas & Tips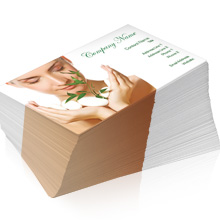 Leaving a smashing good impression to your target audience is often the most difficult step to turn them into customers. This is why you should hand out marketing tools like creative and interesting business cards to encourage them to try and trust your products or services.
Business cards are small yet powerful branding tools that can help you build a relationship with potential clients. Aside from your business name, your contact details are included on the provided spaces of the card to let people know how they could reach you.
The keys to effective prints are their
business card design
and printing. Here are 3 tips that you might want to apply to effectively blend these two elements for your set:
Think about your project's theme. Jot down your design ideas that will serve as foundations for the theme of your cards. Make sure that your theme is in line with your brand identity by using colors in your logo. You may also look at print samples online if you wish to have an idea on how to start.


Create a balance between the design and text. Since business cards are relatively small, avoid overcrowding the design and text. Instead, create a balance on both details to ensure focus, clarity, and professional look. Start with a draft work and use a template for an easier time placing the details that you like.


Add an image if applicable. Depending on your theme, include an image or graphics that would help people visualize your offers. It can also add creativity and life to your work as long as the picture has a resolution of at least 300 dpi.
Try out these creative tips and have fun when you
.You might even be able to design a set that would not only impress your clients but would also encourage them to contact you as soon as possible.