Discount Business Card Printing
How to Get Business Card Printing on Huge Discounts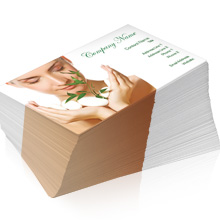 One of the things that can somehow restrict you from gaining the ideal promotional tools for your business is the budget. When you do not have enough cash to shed out on advertising, you may feel upset and wonder how you can reach your target market. Still, there are some powerful materials that can help you out on marketing without having to spend a lot like business cards. You just need to figure out where and how to have this done at affordable prices.
Now, if you haven't come up with an idea yet on how this could be possible, then here are quick tips that could help you out on getting discount business cards:


Subscribe to newsletters of online printing stores. Stay updated by signing up on the newsletters of online printing companies. This can save you from occasionally searching for discount offers that can save you from expensive printing. Just make sure to provide your existing email address for you to get the news while it's hot and fresh.


Check for discounts on larger orders. There are some online printing stores that would provide discounts when going for bulk printing. Make sure to look for this type of companies if you prefer to order business cards printed in hundreds or even thousands. You might even want to call up their staff to know if they can provide you with savings for a lot of prints.


Go for the standard specifications. If you want to maintain the standard look on your business cards, then this could also be a good move to save on the printing. Since the common specifications for this order are provided at an average or even low price, you won't have to worry about additional costs charged on a larger size or different type of coating.
Printing
custom business cards
online when on a tight budget should not stop you from using these as promotional tools. Find a way on how you can cut on the expenses or better yet, apply these tips to have a more convenient time.