Real Estate Business Cards
How to Create Professional Real Estate Cards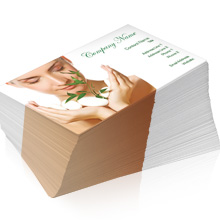 As a part of the real estate industry you must establish that you are someone who can be trusted by buyers, brokers and companies. You should be a person who can provide clients with the necessary details for them to be convinced that a unit or area is worth the purchase. The question is what tools do you need to get this message across your clients? The top answer here is to get your set of real estate business cards. With these custom cards, you can easily introduce yourself and create a connection with the people. Just make sure that the business cards are appealing enough for your audience to decide that they should keep it for future use. Here are some points on how to make impressive cards:


Go for a simple yet elegant design. Although it may seem like a general statement that simplicity brings out the best in your work, it's still effective for any project including your business cards. Considering that these are small items, you need to think about how these would look elegant and professional without overcrowding the layout. Stick to the basics by only adding the necessary details.


Use appropriate colors.Avoid splashing out too many colors and stick to one or two shades that perfectly work together. Since real estate is a serious field, opt for dark colors like black, dark blue or green. You can also include shades used by your business or company for better branding.


Let your contact details stand out.Since the purpose of handing out business cards is to inform people of your contact details, make sure that these are easily noticeable. You might also want to use details that have recall like a simple email address or a repetitive digits of a phone number. This will make it easier for you and your customers to be engaged in a business communication.
By working on these ideas, you can
print business cards
that will introduce your company and services. Let people feel that they can count on you and they must contact you again for future transactions After all, you need to stay connected with your customers for future business deals.