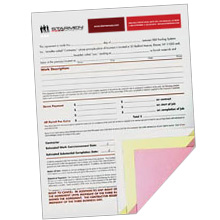 Avoid the hassle of recording your sales and transactions through Carbonless Business Forms. Have a convenient way of keeping your files and other important sales documents. NCR Business Forms are effective tools you can use to keep track of your earnings and monitor supplies.
Carbonless business forms allow you to write down information on multiple pages at the same time. You won't have to continuously rewrite the details since these forms are made to replicate whatever is written on the first page. These make documenting financial reports fast, easy and convenient.
At PrintRunner, you can order ncr forms in standard sizes: 4.25" x 5.5", 5.5" x 8.5", 8.5" x 11" and 8.5" x 14". Print from 500 to 10,000 pieces. Opt for 2, 3 or 4 part forms in white, yellow, pink and gold. Talk to one of our customer service representatives or call us at 1-888-774-6889 for your inquiries.