Carbonless Business Forms
The Advantages of Using Carbonless Forms for Your Business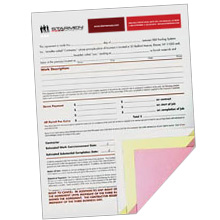 Every business has its own set of transactions or deals that may need to be recorded for file-keeping and other purposes. These jobs should be carefully prepared since the profit of the company may be affected once the copies are not properly done. With this situation in mind, it's important to use carbonless forms that can provide ease and professionalism in storing important documents.
Carbonless forms are made up of sheets of papers that allow you place all your written information on every page with just one stroke. You won't have to continuously rewrite the details since these forms are made to allow the writing placed on the top sheet to be copied on the other remaining papers. Unlike the old business forms that have black copy papers on, these forms are just made up of the multi-part colored papers that can provide more clarity and consistency.
This type of business form has a lot to offer for your business especially when you always document your financial works. To give you an idea on why you must try these out, here are a few of the advantages:


Provides affordable and reliable choice for file reproduction. With carbonless forms, you won't have to spend a lot to have your own set. There are online printing companies like PrintRunner that can provide you with your custom forms at affordable prices. You can also rely on these things to perfectly reproduce the things you need to record.


Offers professional copies for customers. In case you need to give a record or copy of your transaction to a customer, you can be sure that the forms can help you present the file in more professional and neat way. You can even add other details on the customer's copies without making these look messy by leaving an area for additional notes on your carbonless forms.


Becomes an avenue for business marketing. Aside from providing copies for your files, the custom forms can also be designed to strengthen your brand's image. You may design these papers in a creative and impressive way for people to easily recall the ideas about your company. This is a great investment since you are not only using these to record deals but also to promote your business.
So if you know that you'll be doing a lot of written works for your business and customers, you might want to use
carbonless forms
. These would be perfect to save time, budget, and even effort on promoting your company's image.