Custom CD Sleeve Printing
Factors to Look for in a Professional Custom CD Sleeve Printing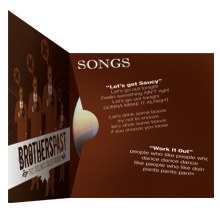 When the competition's pretty tight and you need to outwit your competitors, you must come up with the right set of promotional tools that can reach the potential customers and convince them that you're worth try. Avoid going for the usual materials like posters or flyers especially when your business involves recording. It's a good move to turn to CDs and take advantage of the advertising space that the
CD/DVD sleeve
provides.
The packaging of your CDs or DVDs is made usually made up of cardstocks that can be designed. Make sure to look at these tools as an opportunity for you to say more about your business. So carefully plan its look and effectively go for high-quality full color and custom CD sleeve printing to gain the best package for your materials.
Now, if you've really worked hard on the look of your CDs and you want to make sure that the printing would match your project, there are some factors you must look into. Here are quick ideas which would be helpful for you to select the right custom CD sleeve printing partner:


Offers various printing styles. When it comes to packaging, you may need to make your CDs more appealing and interesting for people to be convinced that they must have a copy. This is why the CD or DVD sleeves should be attractive and worth the attention. Check for the styles being offered by the online printing companies. Most of the time, the basic and fancy types are provided. Think about which would fit your items and know the difference for you to select the ideal style.


Uses high-quality materials for printing. The CD sleeves need to be sturdy and professional for these to protect your recordings. Always look at the paper type, printing process, coating, and other added specifications that would be applied for your order. This will help you determine if the service is worth the price and investment or not.


Provides fast production time and delivery. You would know that the printing company values you as a customer when it won't allow you to spend a long time waiting for your order. Your order should arrive at your doorstep after just a few days. This will help you stay on track with your marketing strategy and could give you more time other needs.
With these quick ideas, you won't have a problem finding the right store to print your materials. Just do a quick research or comparison then check on your needs for you to gain the service that you want.