Door Hanger Marketing Tips
Quick Tips to Improve Marketing Using Door Hangers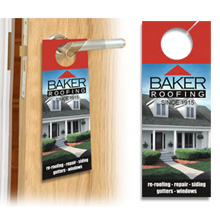 Marketing your business is not an easy job especially when you're just starting or you have already encountered a tight competition. In such situation, you must know what promotional tools can help you reach your target market without having to cost a lot. This is where print products like door hangers become ideal and fit for your business needs.
Door hangers are perfect for your marketing strategy if you want to easily reach customers found nearby. These materials are also easy and affordable to make which would help you gain savings. You just need to know how to effectively create your set and plan your advertising for these to work the way you want to.
If you haven't thought about yet how you could put your set into good use for your business's goals, then there are some tips that can help you make that impressive marketing move:


Know your goals and plan to reach the people. Before you could even start giving these out, you need to have a concrete plan on what you want to achieve and how you plan to reach these. You should also think about the best way to be noticed. Since door hangers are made to be left right at the customers' doorsteps, take advantage of this purpose and be sure to get noticed in the most impressive and interesting way.


Be noticed and maintain the interest. When you've placed your appealing materials on the front area of your clients' homes, you are increasing the chances of getting noticed. Once they've spotted your materials, you must make sure to maintain the interest. A trick here is to work on the design, layout and printing of your promotional tools. Add enticing images and use catchy headlines or phrases for the readers to be enticed. When it comes to printing door hangers, go for high-quality materials, printing options, and production services to improve your project's design.


Include discount offers or limited deals. Make your customers feel special by adding exclusive offers. Emphasize the point of trying your offer and getting discounts by handing out a coupon attached to the materials. Most of the time, people would consider the deals as long as these can guarantee savings and would provide benefits for them. Remember to include an idea on what they could expect from your offers.
When using door hangers for your marketing, it's best to think about the impression that you want to gain from your customers. You should also check out the advantages and disadvantages that this promotion can do for your business to weigh your options. After all, it's best to always invest on the tools that will not only bring customers to you, but could also give you instant benefits like savings.