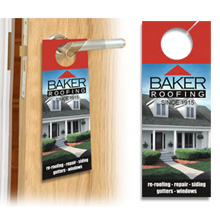 Reach out to local customers with door hangers. These are perfect for your marketing strategy. These materials are easy and affordable to make.
Here are some tips to help you in planning a door hanger campaign:
Know the people to want to reach.
A thousand door hangers wouldn't do you any good if it lands on wrong doors. You want to focus on
reaching your target market with this tactic. That's the best way to keeps things efficient and would
most likely bring the highest return than just targeting random people.
Catch attention and spark interest
Design will play a big role here. You'll want to catch people's attention even before they approach
their doors. Vibrant colors works, just don't overdo it. Also know about correct color combination for
good contrast. You can search for the color wheel for information about that.
Is the campaign for a specific season? Are you promoting events? After catching your target attention making them reach for your door hanger,
you need to make sure you deliver the right message.
Door hangers can be effective in marketing your products or service if done correctly. Use the tips above to guide you in creating your next marketing campaign using door hangers.