Business Letterhead Design
3 Easy Design Tips for Your Business Letterheads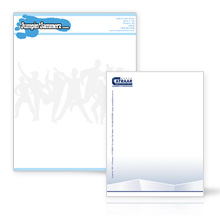 When using business letterheads to promote your business, it is important to always take a good look at your set and think about how other people would react when they've seen your materials. You should consider the impression that you wish to gain if you want your set to be effective for your business. Now the question that you must answer is what would make your tools outstanding and more eye-catching? Well, you can find the answers on the
business letterhead design
.
Creating appealing designs for business letterheads is not a difficult task. In fact, there are various tricks you could try to easily make your own attractive set. Here are some of those tips which you can go for when starting your project:


Think about the theme to use. Before you could even start with placing the images or adding up colors, you will need to make your own project theme. Think about the right style and overall look of your items which will fit the image that you want to show. You may want to take down notes for you to be able to create the best idea.


Gather the details you plan to add. Avoid having to stop and think about the other things you need to get for your project by gathering all of the design elements before starting. Make sure to have a copy of your company's logo and contact details so you could add these on the letterheads. You must also go for images with 300 dpi for the quality to be perfect when used as a design.


Use the headline and footer wisely. Keep in mind that the footer and header parts are usually the first and last portions to be looked at by readers. You must make sure that you place your company's information on these areas. Avoid overcrowding it though with design, colors, or images to still create focus.
Apply these tricks and you won't have a hard time creating your business letterheads. You might even get lucky and receive custom sheets that will not only deliver the message for you, but will also boost the ideal image for your business.