Matte Postcards for Clients
Why Give Out Matte Postcards to Your Clients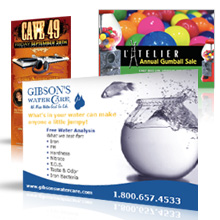 Pleasing your business's clients may seem a tough job, but there are ways for you to achieve this. You just need to know what promotional tools to invest on which strategies would work well for these items. Now, if you are on a tight budget yet you still want to reach out to more customers, then this is where matte postcards can be the right materials for you.
Matte postcards done by your trusted online printing company can provide you with various benefits that include savings and faster marketing results. All you have to do is work hard for your set and find a determination to make the most appealing tools.
So to make you consider using these items, here are some ideas about these cards that are worth taking note of:


Presents your business in a creative and professional way. Since postcards can be creatively designed and sent out to your customers, you would be able to present your company in a more professional and appealing style. You might even gain the ideal impression which would give plus points to your business. At the same time, you are increasing the chance of getting noticed by those who weren't even a part of your target market.


Provides a more appealing alternative to business cards. These materials would also carry your contact details which could act as larger forms of business cards. Still, with these tools you could be more creative and can provide your clients with a more creative and decorative type of material, which they would need in the future should they wish to contact you.


Offers longer lasting promotional tools. Matte postcards could last longer than other marketing items since these are printed on high-quality materials then covered with a durable and elegant matte coating. It would be a good investment since you can be sure that your items would provide longer brand exposure.
Now that you already have a quick view on what to expect, there shouldn't be a reason for you not to try these out. Just a quick tip here -- always go for high-quality service when you
print postcards
for you to get the best value that you'll pay for.