Notepad Uses
3 Different Ways to Use Notepads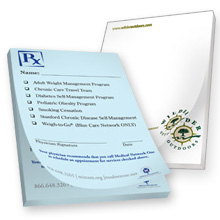 A notepad is a handy stationary accessory to have accessible at all times. You never know when inspiration might strike or a quick list will need to be made. This is why notepads are such an effective means of marketing for a business. Providing complimentary notepads to current and potential clients is a way to promote your company with a useful gift. Your clients and employees will be thrilled that they do not need to buy notepads, which benefits you. Plus, the more your clients use your notepad, the more your company logo and name are distributed throughout the community. It is a form of marketing that continues to work for you long after it is first received. To encourage the use of your notepad, consider these three different ways in which it may be used.
Business Use
Providing your employees with company stationary, such as letterhead and business cards, is a common practice. Providing them also with notepads allows them to take notes and jot down ideas as they strike. If they continue to use these personalized notepads outside of the office, they carry on company name and represent your business wherever they use them. Notepads in the workplace also allow employees to share notes on official paper, which will help to bolster morale and create a sense of continuity. When designing notepads for business use, you will want to keep your design concept simple and clean. The more room for notes to be taken makes the notepads more likely to be used. It is recommended to maintain a professional feel with the design of notepads for business use.
Personal Use
When you intend to distribute your notepads for personal use, notepads are a great way for a company to showcase its creativity. Personalized notepads provide a greater degree of freedom when it comes to design. One way to make your notepads pop for personal use is to incorporate color into the design. Color can be brought in through the printing process of the pictures and font or it can be introduced in the actual paper the notepad is printed on. A colorful notepad is something that your recipients will want to use and maybe even show off. You want your notepad to be something that people reach for time and again when they need to write a note. Creative design will lend itself to this desired effect.
To-Do Lists
Since notepads are generally used to write down short notes, it makes sense that they are often used to draft "to-do" lists. You can choose to design a useful notepad that makes making a "to-do" list a no-brainer. Printing on lined paper is one way to make a list easier to make. You can even incorporate a header with the words "To Do" and put your company logo as a footer. The recipients of your notepad will appreciate how easy it is to get their thoughts organized on your notepad alternative. To add even more functionality, you can affix a magnet to the back of the entire notepad, so that it can be kept on a magnetic surface. Another helpful addition can be to make the back of each paper in the notepad "sticky" in the same fashion as a Post-It note. This addition can make a notepad ideal for to-do lists since the notes can be put in convenient places as reminders.