Color Sticker Printing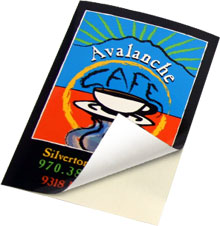 Stickers are becoming popular promotional tools nowadays. The reason is that it is more affordable and it lasts longer than other marketing materials. Having these as tools may sound easy but you have to make sure that you'll invest on the right ones. It should be of best quality and design. One way of achieving best quality is to invest in the best online printing company. For achieving the best design, you should go for color sticker printing. This will bring life and excitement to your prints using colors. It will not only give you products a second look but will also help your target market remember your brand easier.
Still not convinced on printing personalized stickers in full color? Here are particular advantages that will encourage you to produce your own set in vibrant shades and design:
Professional and Pleasing Sticker Design. You can use whatever shade you prefer and blend it. By doing this in the right manner, you will be able to create impressive, attractive and eye-catching stickers. Do not worry because you won't have to limit your color choices since full color printing can produce thousands of shades. You also have the option to mix and match different graphics and hues to fully express the creative theme that you want.
Durable and Long Lasting Prints. Choose an online printing company that offers full color printing services. Be sure it is top-notch even when it has the most affordable price. This will ensure you get only the best items that will give you higher brand exposure at the cheapest cost. Brand Exposure and Marketing Strategy. Full color prints always look better and more attractive than dull and basic types. This gives you a higher brand exposure which is good for your business promotion.
Always remember that it takes time, effort and investment to create the best color stickers. But when you are finally able to create an effective one, you can maximize it to your own business promotion advantage.
If you are interested for more online printing articles and tips, check out Learning Center.