Color Sticker Printing
Discovering the Wonders of Color Stickers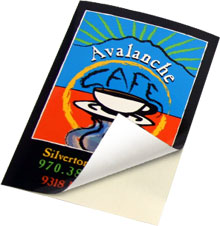 Thinking about using stickers for your promotions? While this could be a wise move, you need to make sure that you'll invest on a catchy design and a trusted printing service to do this. But if you're looking for a sure-fire way to make your prints grab the attention they deserve, then
Color sticker printing
is the way to go. Use color to bring life and excitement into your prints. This way, people will not only give your tools a second look, these will also help your target market remember your brand easier.
Printing personalized stickers in full color has a lot of advantages. Here are some ideas to encourage you to produce your own set in vibrant shades and design:
More Professional and Pleasing Sticker Design

Since you can use almost any shade that you like, you can easily mix and match these to come up with a set that looks impressive, attractive, and eye-catching. You also won't have to limit your color choices because full color printing can produce thousands of shades. You can even combine different graphics and hues to fully express the creative theme that you want without worrying how it would look like.
Higher Durability and Longer Lasting Prints
Full color printing services offered by a trusted online printing company can assure you that your decals will last longer than others. This is because the technology applied by full color process is top-notch even when it has the most affordable price. Online printing stores like PrintRunner also ensures you get only the best items that will give you higher brand exposure at the cheapest cost.
Better Brand Exposure and Marketing Strategy
Remember that full color prints always look better and more attractive than the dull and basic types. You can even have a better chance for higher brand exposure which is good for your business.
With these advantages, it can really be encouraging to go for custom sticker marketing. Just remember to invest time when designing and printing your set for people to be impressed on what your business has to offer.