Full Color Sticker Printing
Things to Avoid When Going for Full Color Sticker Printing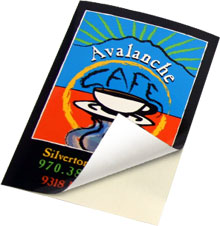 Sticker marketing is a famous strategy when businesses with a limited budget want to get noticed by people. Through full color stickers, you can creatively present your company and grab the chance of gaining the ideal impression. Decals are not expensive to produce especially when you've found a reliable online printer that offers great and affordable printing services.
By producing a good number of prints, you won't miss out on anyone that can be your potential customer. All you have to do is make sure that you work hard on the design so people will pay attention to your marketing tools.
Designing full color decals shouldn't be hard as long as you know what mistakes to avoid. Here are some of the common no-no's you should take note of in order to make your project far from being a flop.
Do not use images or graphics with low resolution.
Since you'll be designing
stickers
, you will need to add images or graphics for these to look more impressive and eye-catching. However, you must be cautious in choosing the details since a poor-quality design element can ruin the entire material. Always make sure that the resolution for the images is at 300 dpi or higher if possible. This will keep your work from looking pixelated or blurred when printed.
Do not overcrowd your design.
Remember that you can still make your tools look appealing and elegant without having to put too many details. Doing this can make the items look confusing and overwhelming. Avoid doing this by learning to love the beauty of white space or by using file templates. You can find these from trusted online printing stores like PrintRunner. We offer the templates in various shapes and sizes to suit your design. The best thing here is it's all for free!
Do not choose poor-quality printing.
Always invest on high-quality printing services to get a major impact on the outcome of your set. Better yet, go for the one trusted by many for years now like PrintRunner. Check our stickers color printing offers and you might be glad to find out how affordable and reliable our services are. You may also give us a call if you need some assistance.
With these quick ideas, you won't have a hard time to make stickers that will grab the attention of the people. You'd even be surprised to find out that the crowd can become your clients when they are pleased with your marketing move.