Full Color Sticker Printing
Things to Avoid When Going for Full Color Sticker Printing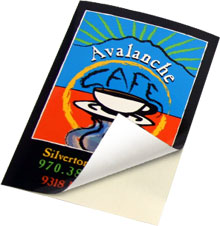 Sticker marketing is a famous strategy to promote businesses. Through full color stickers, you can creatively present your company and grab the chance of gaining a good impression. You can also use stickers to provide important sales information about a product you're selling.
Don't miss out on another promotional opportunity again - work hard on the design so people will pay attention to your marketing tools.
Here are some of the design tips you should take note:
Use high-resolution images.
Since you'll be designing stickers, you will need to add images or graphics for these to look more impressive and eye-catching. You must be cautious in choosing the details since a poor-quality design element can ruin the entire material. Make sure that the resolution for the images is at 300 dpi or higher. This will keep your work from looking pixelated or blurred when printed.
Do not overcrowd your design.
Remember that you can still make your tools look appealing and elegant without having too many details. Doing this can make the layout look confusing and overwhelming. Learn to love the beauty of white space. You can find these from trusted online printing stores like PrintRunner. We offer the templates in various shapes and sizes to suit your design. The best thing here is it's all for free!
Choose premium quality printing service.
Always invest on high-quality printing services to get a major impact on the outcome of your set. Better yet, go for the one trusted by many for years or were recommended by friends.
With these quick ideas, you won't have a hard time to make stickers that will grab the attention of the people.