Sticker Design
3 Easy-to-Do Tips for Your Custom Sticker Design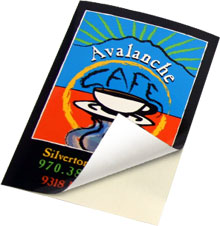 Designing your promotional tools for use in advertising can be a chore, especiallly for both start-up businesses and seasoned companies. But, it is a necessity that requires a lot of investment in both time and resources. It is crucial for you to create a design that can impress your target market.
It may seem scary or confusing at first when trying to come up with an idea for your promotion using stickers. Here are some custom sticker designing tips that might help you
Go minimalist. Minimalism has been here for a while now and doesn't seem to be going away in the foreseeable future. And for a good reason, too. Consumers look for something simple and easy to digest. Minimalism gives off a sense of cleanliness and elegance. You don't want to overwhelm your target market with unnecessary details that might confuse them or put them off.
Use typography that suits your brand image. In relation to minimalism, don't use fancy fonts. Ever. Search the internet to find typefaces that designers love to use and fonts that you should never use. Try to find a font that best describes what kind of company you are.
Use online resources. In relation to our first two tips, there are a lot of resources in the internet where you could get graphics and fonts that you can absolutely free. Sites like dafont and FontSquirrel lets you download fonts for free. The Noun Project and iconmonstr are useful resources in getting some minimalist icons for your stickers. Finally, we at PrintRunner provides you with free templates to use as a guide in your projects.
Design a logical and aesthetically pleasing layout. Do not overcrowd your sticker with a barrage of images or walls of text. Utilize the negative space to let your readers' eyes rest. Make sure bullet points are aligned if you are creating lists. If your sticker design includes presentation of data, avoid 3D charts and other unnecessary design elements that could clutter your work.
Do not think you would have instant success. There is no sure success in any marketing venture. You would not always be able to capture your audience. But you shouldn't stop at failure. Research more on your target market. Ask what kind of designs that they would find appealing. Check your content and see if you are providing your audience with relevant information. Just try, try and try until you find that sweet spot of success.
These are only some tips that you could consider when you are designing your stickers. When you're ready with your design, contact us for
sticker printing
. We will provide you with high-quality and affordable printing service. Click our Live Chat button or call us at 1-888-774-6889