Bumper Sticker Printing
Custom Bumper Stickers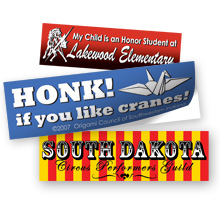 Bumper stickers are very popular these days. The main reason of such is that these stickers can be used in so many ways. These can make political statements, express message and most especially advertise a business. There are two main uses of the sticker prints:
Custom Bumper Stickers for Business. These stickers attached to vehicles became effective promotional tools. It is because of its ability to reach wider target market. Your company's name and logo have the potential of being seen hundreds of times in a single day. Consider these as part of the branding process for your business. The more often people see your name and logo; the more you are branded into their memories. To be able to maximize these stickers, you should make sure that it clearly depicts what you want people to see.
Custom Bumper Stickers for Personal Interests. These stickers have endless possibilities. You can print them for expressing message, decorations, announcements and many more. You can also print them for your friends. These prints can be printed on non-permanent adhesive paper. You will always have the option to remove and reposition it.
You have lots of options when it comes to sticker printing. The options are not only limited to use of the bumper sticker either. The shape, colors, and text are just few of the factors you need to consider. Have fun and get creative because custom bumper stickers can become an extension of the driver and an expression of self.
For more tips on online printing, check out our Learning Center..