Bumper Sticker Printing
Custom Bumper Stickers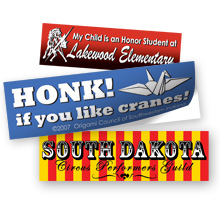 Bumper stickers can be a variety of different things to different people for different reasons. Bumper stickers can make political statements. They can express a message. They can advertise a business. They can make you laugh. The ways in which custom bumper stickers are utilized are varied and many, which has led to their ubiquitous popularity. Bumper stickers add personality to your vehicle and can be an expression of yourself. Custom bumper stickers allow you to say what you want, how you want to.
Custom Bumper Stickers for Your Business
Custom bumper stickers are an excellent way to market your company. Due to the nature of a bumper sticker being affixed to a vehicle, your company's name and logo have the potential of being seen hundreds of times in a single day. Custom bumper stickers are literally a rolling advertisement for your business. Consider bumper stickers as part of the branding process for your business: The more often people see your name and logo, the more you are branded into their memories. They will think of you and your business first when seeking out your specific service. To make this branding process most effective, make sure that your custom bumper sticker clearly states your company's name. Since a bumper sticker is usually "on the move," you need to make sure that it can easily be read in a matter of a second. Bold colors and clear fonts are essential in creating a clear image. Using templates or employing the services of a graphic designer can help you to achieve your business goals.
Custom Bumper Stickers for Personal Interests
You may want to create custom bumper stickers for your own personal use and for your friends. Perhaps there is a funny saying that you want to use to show your personality or an important date in your personal history you want to advertise. Whatever the cause or the reason, creating a custom bumper sticker has never been easier. Templates are available to help you design your bumper sticker and you can easily upload pictures to make your bumper sticker even more personal. Perhaps you want to create a bumper sticker to commemorate your favorite holiday. You could even have your custom bumper sticker printed on non-permanent adhesive paper so that your bumper sticker could be removed once the holiday season was through. Or maybe you want to announce the arrival of your newborn twins. Upload a picture with your children's names and voila! Consider your babies announced. The possibilities are endless!
Whether you are creating custom bumper stickers for your business or for your personal use, it is clear that you have many options. The options are not only limited to use of the bumper sticker either. The shape of the bumper sticker, the colors used, the text used, and the pictures used are all factors that go into your custom bumper sticker design. Have fun and get creative because custom bumper stickers can become an extension of the driver and an expression of self.