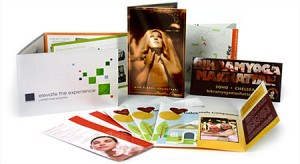 With the holiday season just around the corner, most businesses are wasting no time in capitalizing on the specials that they can offer in conjunction with this time of year. Starting with Halloween and going through to the New Year, the climate is rich for increasing sales and improving your bottom line. But with all of the holiday discounts and deals happening, how do you stand out from the competition? What is going to compel customers to visit you over your competition? Different marketing and advertising tactics are key to attracting customers, but if you are a small business on a budget, some of the glitzier choices – like radio and television ads – may not be an option. That doesn't mean, however, that you can't make a major impact with more affordable advertising options. One inexpensive way to share the news of seasonal specials is with brochures.  Brochures tend to be regarded as informational items distributed by travel agencies and doctor's offices, but they can be so much more. In fact, the versatility of this single sheet of paper may surprise you.
Seasonal Specials With Brochures
Brochures are the ideal way to let both loyal and potential customers know about all you have to offer this holiday season. You can create price lists, display photos and include a call to action, all on one sheet of paper. In fact, that is one of the most appealing things about creating a brochure. Since it is folded into sections and can include a variety of information without appearing overwhelming, it is an effective form of advertising. And since a brochure can be made using just one piece of paper, the printing costs remain low. You can even choose to mail your brochures folded and stamped, without using envelopes – and that means one less expense when it comes to distribution.
Depending on how far in advance you have your sales planned, you could create a calendar in your brochure that shows when specials will be occurring at your store through the end of the year. If you do this kind of overview of sales, you can print your brochures in bulk for a more focused ad campaign. One of the great things about printing in bulk is that, as the final order count goes up, the price per unit goes down. This is another great way to save money.
To come up with the most effective design for your brochure printing project, you may want to consult with a graphic designer. Check first with your printing company to see if they have an in-house graphic design team on staff. If so, you can factor that into your printing expense. You may also find that working with an existing template provides enough guidance to help you create an effective brochure design. The key is to keep it simple, keep it informative and keep it engaging. One way to engage readers is to include a call to action. Perhaps you have a social networking account that they can follow or become a fan of in order to receive exclusive updates. Use your brochure to tell your customers about this opportunity. The brochure then becomes a way to interact with your customers and bolster your standing within the community.
If you are looking for an effective way to spread the word about your seasonal specials, brochures may be the right choice for your company.
(Visited 58 times, 1 visits today)