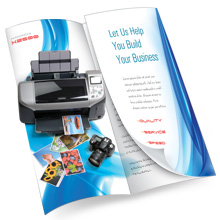 You might be asking yourself if you even need a brochure for your company or service, especially if you have a website. A basic principle of marketing is that the more touch points you can create with a customer or prospect, the more likely they are to think of you whenever they need what you have to offer. If you're building a business or looking for new customers, a brochure is an effective touch point. A brochure can also be used to get people to visit your website for more or updated information.
A Brochure is Like a Business Card – Only Bigger
Like a business card, a good brochure supplies all the contact information anyone needs to initiate a purchase discussion. But unlike a business card, a brochure offers an opportunity to give prospects additional information they can save for reference, especially if they're not "in the market" right now. People are less likely to throw away brochures than flyers or newspaper ads.
Creating an Effective Brochure Isn't Hard
If you're putting together a brochure for your company, make sure you clearly communicate the benefits of using your products or services. People don't care so much about what you do as much as they care about how it helps them. Color also helps your brochure stand out, as does its size. Online printing companies make it possible to print brochures in full color and many different sizes for very reasonable prices.
PrintRunner.com is a convenient online printing resource that sells high quality printing nationally as well as locally. Unlike local printers, this helps them achieve savings that get passed on to you. In fact, they're running a 35% off special on brochure printing through the end of February. Their online tools are simple and user-friendly, but if you need help, their in-house customer service representatives are extremely knowledgeable and easy to reach.
(Visited 106 times, 1 visits today)