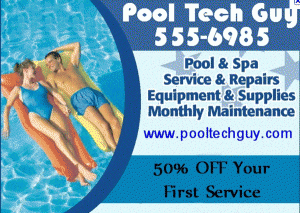 As the icy veil of winter has finally been lifted, so soon will be the covers on swimming pools everywhere. People with backyard pools can't wait for that first cannonball to send a plume of water skyrocketing into the air (and maybe onto a couple of unsuspecting bystanders.)  But if you're a pool contractor, you know it's also time to get down to business. How do you get your foot in the door, or toe in the water, of new customers?  There are several creative summer marketing ideas you can employ to increase your customer base, and keep a wave of profits surging all summer long.
Creative Summer Marketing Ideas
Place eye-catching lawn signs in front of the homes you service. Most homeowners have no problem allowing you to promote your business while you work for them. This gives neighbors and other homeowners a chance to see your company at work in the area and an opportunity to observe the quality of your performance.
Do some surveillance work before you head out to a job or to provide a service estimate. Use an online satellite map to search other homes in that neighborhood. You'll be able to get a bird's eye view of houses that already have pools. Target these homes with door hangers that tout your services and offer a special discount to new customers. If you are looking to grow your installation business, create an enticing door hanger offer targeted at those homes without pools. Try using an image of refreshing, crystal-blue pool water as an enticing background.
Remember, as the saying goes, "A picture is worth a thousand words." Create a brochure featuring some of your "weak" to "chic" pool makeovers to impress prospective clients. Before and after photos are dramatic ways to demonstrate the transformations your company can make when refurbishing and redesigning old pools.
You can find these items and more at an online print company like printrunner.com. They offer a variety of options for creating eye-catching lawn signs, door hangers, brochures, postcards and more. And throughout April, printrunner.com is offering free shipping on all orders. The creative experts at Printrunner.com can assist you in putting together advertising materials that will certainly make a splash!