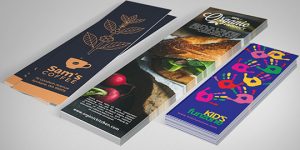 Got a literary masterpiece, or the next great how-to reference to market? Custom bookmarks are a practical, memorable touch that can boost your book campaign.
Bookmarks as a marketing tool can be great when distributed to the right audience. Consider your readership – if you're marketing a DIY how-to, you might be more likely to reach them by distributing bookmarks with similar purchases or even at a hardware store rather than a bookshop. Literature buffs might be found at the library, book superstore or coffee shop. Casual fiction readers might be more likely to be found at the airport, looking to pick up the latest hot beach read.
Effective Promotional Bookmarks
Offering a free bookmark that promotes your product to people in these situations is a targeted marketing effort. It's engaging your customers in situations where they're more likely to listen to, and act on your message – after all, you're offering them a book that happens to be related to the very activity they're about to embark on.
Plus, custom printed bookmarks are an excellent opportunity to cross promote. Now that you've considered your audience and where they're likely to be when considering making a book purchase depending on the subject, think about what your bookmarks can do for them (aside from functioning as a page holder and a reminder to buy your book). Offering a coupon or discount code as part of your bookmark is sure to pique their interest, whether it's for a free cup of coffee, a percentage off the materials for their next project, or a discount on your book itself.
Even if your potential customers don't act on your custom bookmark's call to action right away, many won't simply dispose of the bookmark. That's the beauty of bookmarks as a functional marketing tool: they offer a simple, practical use to potential customers who will repeatedly see your message and may even share the bookmark with friends.
This marketing strategy doesn't have to be limited to book sales, although in that realm it's a highly relevant print piece. Get creative and you'll come up with many effective ways to utilize economical custom printed bookmarks for a big return on investment. This month get a 10% discount on quality Earth friendly recycled paper promotional bookmarks at PrintRunner.com.