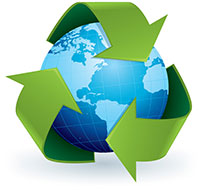 April 22, affectionately known as Earth Day, is the culmination of a week-long celebration held worldwide to promote Earth awareness and participation. This is a chance for business owners to not only hold an event to promote their respective businesses, but also to expand their target market and grow their customer base.
If you are a small business owner, capitalizing your marketing efforts on holidays like Earth Day can help you maximize your profits than usual.
Below is five-step guide on how to develop a short-term marketing plan for any campaign for small businesses.
Step 1: Define your goal
What exactly do you want to accomplish with your campaign? A single campaign for a specific holiday may yield more than one outcome. Following Earth Day as our example, holding an event may increase your sales, associate your brand within the green industry, segment your market, or gain leverage from it.
In developing a short-term marketing plan, specify your main goal and sub-goals; these will be used as your metrics for evaluating the effectiveness of your campaign.
Let's say you run a small online printing company that uses soy-based inks and recycled paper to promote earth-friendly alternatives. Given the resources you use in your business, you would want to come up with a marketing campaign on Earth Day to not only increase your earnings, but also establish your brand as an eco-friendly business.
Below is an example of what your main goal and sub-goals can be:
Goal
Promote brand as an "eco-friendly" business and build affinity with organizations and communities that promote earth-friendly practices.
Sub-goals
Tap market with high affinity and active in participating on saving the earth movements and awareness drives.
Get free promotion from organizations and groups that advocate save the earth movements.
Increase profit up to 5% within the quarter during and after the campaign.
Sub-goals are usually a by-product of meeting your main goal. That is why you have to choose your main goal carefully because it will define the course of your whole marketing plan.
Step 2: Know your market
By knowing your target market, you can tailor-fit your marketing mix according to their personalities, wants, aspirations, and interests.
Determining your target market involves defining two aspects: demographics and psychographic.
Demographics are the most recent statistical characteristics of a population – it could be the age, gender, marital status, geographic location, income bracket, and/or anything empirical or measurable about a population. Psychographic, on the other hand, are common psychological characteristics of a population such as lifestyle, hobbies, fashion, and other mind sets of a specific demographic.
This part can be a bit tricky because, as a brand, you already have an established target market. But since you're making a campaign for an event with a specific audience in mind, you may have to make certain adjustments as to what defines your target market.
Take this target market statement example of your online printing company below:
"Online Printing Company X primarily targets local small businesses – starting businesses up to 10 years of operation and has a small- to medium-range income. They are profit-oriented and use below-the-line marketing to promote their business, and they are in constant need for printed materials."
For your campaign you might have to change your target market statement to this:
"Online Printing Company X's Earth Day campaign targets local small businesses, non-profit organizations, and individuals who advocate spreading awareness and educating people on saving the earth. They take part in movements on promoting earth-friendly alternatives and measures to help conserve our natural resources. They have a strong affinity to earth and nature, and are devoted to making the earth a better place to live in."
Step 3: Develop strategies and tactics
This is the part where you develop a theme and mechanics for your campaign according to your goal and target market. These are comprised of three steps:
Formulate a memorable theme or a catchy title that will best describe your campaign.
Identify your strategies. What method are you going to use in communicating your product and the message of your campaign? Are you going to organize an education drive or an active awareness drive? Think of an event or a promo that might be applicable to your target market and product/service which may accomplish your goal.
Lay down your tactics.These are the activities that you intend to execute to reach your goal. Here is an example of a title and a strategies and tactics for our online printing company.
Campaign Title: thINK green!
Strategy: Education Drive
Tactic: Eco-friendly Alternatives and Community Recycling Projects Symposium – seminar on eco-friendly solutions to common problems at home and recycling activities that a community can work on together.
Strategy: Promotional Contest
Tactic: "Print Green and Win!" – A design contest for amateur designers.
Strategy: Active Awareness Community Project
Tactic: "Buy a Tree and Print Free" – A tree planting project where you can buy a tree for you to plant in your local eco-park and you will get free 150 copies of your business card.
Strategy: Fund Raising
Tactic: "sINKronize" – A concert where part of the money raised will be awarded to the non-profit organization that sells most of the tickets.
The campaign title "Think green" isn't really catchy if you hear it. But if you can see how it is written and the design, the "INK" is written in such a way that it stands out – connecting the campaign to your business as a printing company.
Each tactic should have a mechanic that will govern its execution. The mechanics should contain a step-by-step guide or instruction on how to carry on the event or promo. Tying up with local communities and other small businesses to get sponsorship for your campaign allows you and your partners to receive media mileage.
Step 4: Budget allotments
Break down everything that needs budgeting (or involve cash-outs) from labor to collateral. List down everything that needs to be purchased or any service that needs to be paid.
To make it easier, do it per strategy. See a template below on how you can break down your expenses:
Budget Allotment for Education Drive
"Eco-friendly Alternatives and Community Recycling Projects Seminar" – A seminar on eco-friendly solutions to common problems at home and recycling activities that a community can work on together.
Step 5: Campaign kickers
Plan a strategic way to market your events at least two weeks before event proper.
For example, you can giveaway flyers in nearby malls and maybe outside of school campuses if you're planning to hold fundraisers or concerts. If it's an education drive for communities, you can put up posters on home owner's association bulletins or talk to community officials to help you promote your event. Other below-the-line marketing strategies used as kickers include chain text messages andgood old-fashioned word of mouth, to name a few.
Once you have finalized your short-term marketing communications plan, make sure to review it and ensure that you got everything covered.
Takeaways
Marketing plans give direction to a campaign and a visible measure for the evaluation of its success. This is important in any business so you can effectively balance the rate of ROI, profit, and branding success.
These steps can be applied to any kind of holiday that applies to your business.
Although hiring a 3rd-party event organizer may be ideal, it won't be feasible and cost-effective assuming that you are working with a limited budget. These steps should shore you over with the necessary strategies you need to implement in your marketing efforts for your business and allow you to maximize your resources.
If you have questions, suggestions, or insight about making a short-term marketing plan – or you simply want to share your experience in making a marketing plan or a marketing plan execution, please do so by commenting below.
Comments
comments