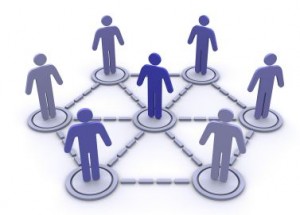 Has a routine trip to the grocery store or breakfast at a diner ever led to a business opportunity? In many industries, simple small talk can actually open the door to a new sale—even when you're off the clock.
Give Free Advice
Don't come off as a salesman. Identify with a potential customer—put yourself in their shoes. Provide knowledge or information to assist them in their present dilemma, and they may contact you for your expertise in the future. For example, a painting contractor buying supplies might see a distressed customer, perplexed by the large assortment of brushes.  By offering assistance with the products, and mentioning how your services can save them time and money, you may win a job on the spot.
Get the Conversation Started
If you are one of the millions of Americans who works independently, (i.e. accountant, interior designer, financial advisor, housekeeper, event planner etc.) word of mouth plays a big part in capturing new business. When you're out and about, make a point to join in friendly conversation with people you see while shopping, pumping gas, or even waiting on line at an amusement park. Look for opportunities to steer conversations towards your line of work. A wedding planner, for example, might notice a newly engaged woman browsing through a bridal magazine in a nail salon. What a great opportunity to show your excitement for her big day, and offer assistance with the event.
Be Prepared
Have an on-the-go marketing campaign ready to support these impromptu sales opportunities. Business cards are important, but you may also want to consider a supply of professional brochures, promotional pens or magnets, or postcards that offer an exclusive discount. When professionally designed and presented, these items give potential customers your contact information while adding lasting credibility to your sales message.
Check out Printrunner.com where you can get 250 full-color business cards for under $15! Their site is hassle-free—brochures, postcards, flyers and promotional items are easy to customize with your logo and information, and everything ships directly to your door in just days. Visit Printrunner.com today for great deals on building a professional, on-the-run campaign.