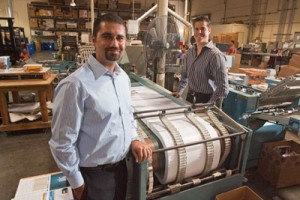 Dear Friends,
Welcome to our new PrintRunner blog, a blog dedicated to helping our customers.  Our blog will provide us with yet another great channel to learn what your needs are and also to teach you what we know works.  Most printing companies out there have been in printing business all their lives and in a lot of cases are second or even third generation printers.  A lot of them don't understand the challenges that the average person has to overcome ordering print, since most customers aren't print experts.  Before purchasing PrintRunner.com 5 years ago, I founded 123inkjets.com which sold inkjet cartridges and had nothing to do with print.  So I personally know the challenges and frustrations customers have buying printed materials.  It's not  as simple as buying an off-the-shelf product such as an inkjet.  There are lots of decisions to make such as what paper to print on, coating options, and so on.  In fact, it's even tougher than just a few choices depending on what your goal is with what you want printed.  For example, if it's a mailing piece for your marketing campaign, paper weight and sizes matter even more.    If you can relate to the challenges I'm talking about then you're at the right place and with the right company.  Through our blog, newsletters, customer service team and even Facebook, we're here to make it as easy as possible and to help you get to your solution with ease.
A little about PrintRunner.com
PrintRunner, Inc. was established with little more than a small press and a dream.  10 years later PrintRunner.com is one of the foremost quality printers in the nation with now over 75,000 business customers alone.  In a nut shell, we print everything and anything outside of pornographic material.  Our policy is "If your mom wouldn't approve it, then we can't print it" J! (And yes, we know Chatsworth CA is the porn capital of the world.)  If there's anything you don't see listed on our website please always feel free to get a Custom Quote by calling us or by filling out our custom quote form online (don't worry, just because it says custom, we don't charge a premium for it and our prices are still very low).  Besides print, we're a one stop shop, where we can also help you design your file, print your job, and mail your materials for you using our mailing services.  PrintRunner is privately owned without any venture capital.  We've made the Inc. 5000 for the last two years as well!
We strongly encourage your feedback, both positive and negative.  Your comments will help us improve our content by delivering more targeted articles that suit your interests.  We see commenting and reader participation as a major factor in the growth and popularity of our blog and we welcome all of your comments, disagreements or criticisms. Our contact information is easy to find and we're always accessible to you.
From the bottom of our hearts, thank you for your business and support.  Our only mission is to help you achieve your solution!
PritnRunner.com
Mike Zaya
CEO
(Visited 245 times, 1 visits today)