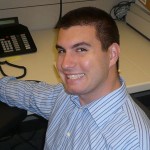 Growing your business involves creating of a plan that lets you develop your core services.
That's what Todd Giannattasio, President of Tresnic Media, has done. By delivering a high-quality experience to clients through their online marketing services, Mr. Giannattasio and gang has elevated their brand and exposed their business to more potential clients.
PrintRunner had the privilege to ask Todd a couple of questions about how he started Tresnic Media and his opinions about the different online marketing tactics.
1. How did Tresnic Media come about?
I started Tresnic Media a few years ago when I was working in-house at a large corporation. I kept seeing web design companies and online marketing agencies scamming businesses into high-priced, poor valued websites. I knew that I could do a better job myself and set out to deliver that promise. I've spent the last 18 months building a team that works on that every day and we thrive on building websites that help achieve real business goals.
2. What are the challenges you had to face when you started Tresnic Media?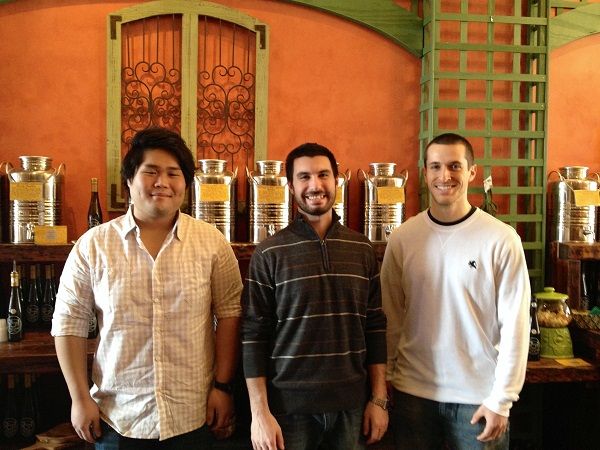 Left to right: Peter Kang (intern), Todd Giannattasio (President), Scott Galpen (Social Media Manager).
When I first started, it was just me doing everything. I was the web designer, the developer, the SEO expert, the social media manager, the content developer…And of course that meant I had to find my own clients as well. It never feels like there's enough time in the day, and just because I could build quality websites, didn't mean I knew how to build a business. So I kind of just learned on the fly.
3. Have you dealt with clients who refused to pay you for your services or are just difficult to work with? How did you resolve your conflicts with them?
There's always going to be clients that are tough to deal with. The key is to remember their characteristics before you knew they were tough, and try to spot those in future prospects. No matter how successful your business is, turning down a new project is always tough, but you learn it's a necessity. We've had clients that were consistently late on payments, then we implemented a "Credit Card On File" policy for all new clients. That way if their payments are late, they get charged a late fee and we can collect on our invoices.
4. How would you suggest people to allocate budget with their online marketing efforts? Which tactic or strategy should they spend the most on?
That's a great question, and it's not always a simple answer. Strategy is probably where to invest the most time, so that you can have a map planned out to reach your goals before you start heading down the wrong direction. Our tactics are usually pretty similar from project to project, it's the strategy behind it that changes. The key to having a successful online presence is to make your website a valuable source of information for your customers. That way, people will want to come and share your content. Google will take notice of this and then you'll start climbing the search rankings as well.
5. If you could give examples of big brands that are using social media the right way, which would those brands be?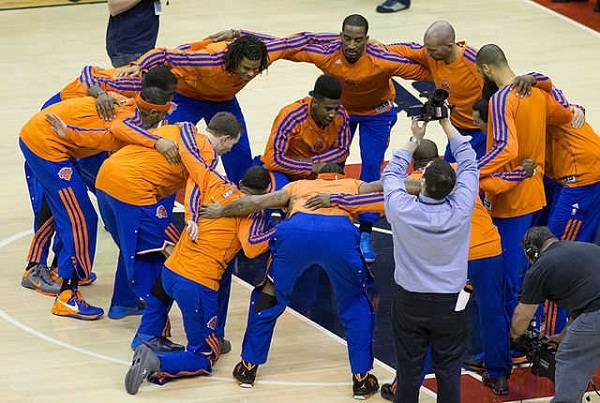 (Source)
I'm going to avoid the typical answers like Starbucks and Walmart and I'm going to go with the New York Knicks. They have a great online presence with their team and sub brand, Knicks Now. They are constantly posting bite sized pieces of content from video interviews of players at practice, in game updates, recaps and photos, etc. It really builds a full-time connection between the fans and the team, but the same strategy can be used to connect businesses with their customers. It's all about creating that personal connection.
6. Any advice to people on how to get something "viral?"
The term going "viral" has gotten to be so cliche, but if you want to create something that will have a long reach, you need to create something with a purpose behind it. If you're passionate about something, make that come across in a way that evokes emotion. Whether it's happiness, sadness or just laughing, if you can create something that will make someone feel something, they will want to share it with a few people. Then one of them will share it with a few more, and so on.
7. What do you think is more important for your blog – developing and sticking to your well-prepared editorial calendar or writing about current trends and latest news?
I think a well-planned content calendar is much more beneficial to a business and its customers than a news and trends blog. If you can create a series behind one message, you'll keep people coming back for more, you'll help improve your search rankings for those keywords and you'll drive people through your sales funnel by mapping content through each level of the buying cycle.
8. As the focus shifted to the creation shareable content and social proof, has the role of Search Engine Optimization diminished in today's online marketing? Why or why not?
I don't think that SEO's role has diminished per se, but it's certainly different. Most people are still looking for answers on products and services via Google, so you need to be there to be successful. The problem is, there is no "File – Save As – Google Top Spot". The way to start ranking is by doing those other things well and proving to the search engines that you are a valuable source of information. That's why I say that high search rankings are a collateral benefit to doing everything else better.
9. Which online marketing tactic is the most effective despite not getting enough love from people? Any ideas on how to combine print materials and online marketing?
Hmm..I think that might be a tie between video and presentations. While most people know about video, and watch videos online, they don't take advantage of it on their website. Less people are aware of SlideShare or the use of online presentations to build your reach online. We are all about repurposing content, so we try to hit the content wheel with a topic and have a blog post, a presentation, a PDF and a video to share across every channel. That's how you can build a truly holistic online presence.
10. Any ideas on how to combine print materials and online marketing?
Print materials are certainly an overlooked aspect. I try to tell all my clients that you can't get stuck in the online world. Building your LinkedIn connections is nice, but if you don't start setting up meetings with people in real life, what value does that have?
I think print materials can play a role in that off line aspect that people seem to have completely forgotten about. When I meet with new prospects, I always have a 10-15 page printed packet to leave behind with them that shows some of our case studies, our analysis of their current situation and the services we offer to help them improve in those areas.
And of course, business cards are a must for everyone, always have at least 10 on you. Every new person you meet should get your business card and vice versa, so you can continue to build relationships. That's the key to success for any business, online or offline, building relationships.
Learn more about Tresnic Media's comprehensive online marketing services by clicking
here
.
Read more online marketing advice from Todd Giannattasio by downloading our 100 Practical Solutions for Business Practices e-book. Get your FREE copy by clicking on the banner below!

(Visited 96 times, 1 visits today)