One of the best platforms for businesses to engage with their customers is through their Facebook page. With virtually everyone owning a Facebook profile, it's one of the easiest and most reliable social media marketing channels to generate conversions and lead users into your intended marketing pages.
On their part, Facebook has started to cater to marketers and created business-friendly features for their Facebook Pages. Just a few years ago, they released Facebook for Business, a business manager to manage Pages, advertising accounts, and your Facebook marketing team. Its improved Insights provides ease of meeting objectives and reporting key metrics.
The more recent innovation, aside from the ever-changing layout, is the Facebook call-to-action button. It was released almost two years ago but with the new layout giving it a prominent place and more types of buttons to choose from, Facebook has breathed new life into perhaps the most important button in Facebook Pages right now.
Before we talk about optimizing your Facebook call-to-action button however, let's first review how to get it on your Page.
How to get your own Facebook call-to-action button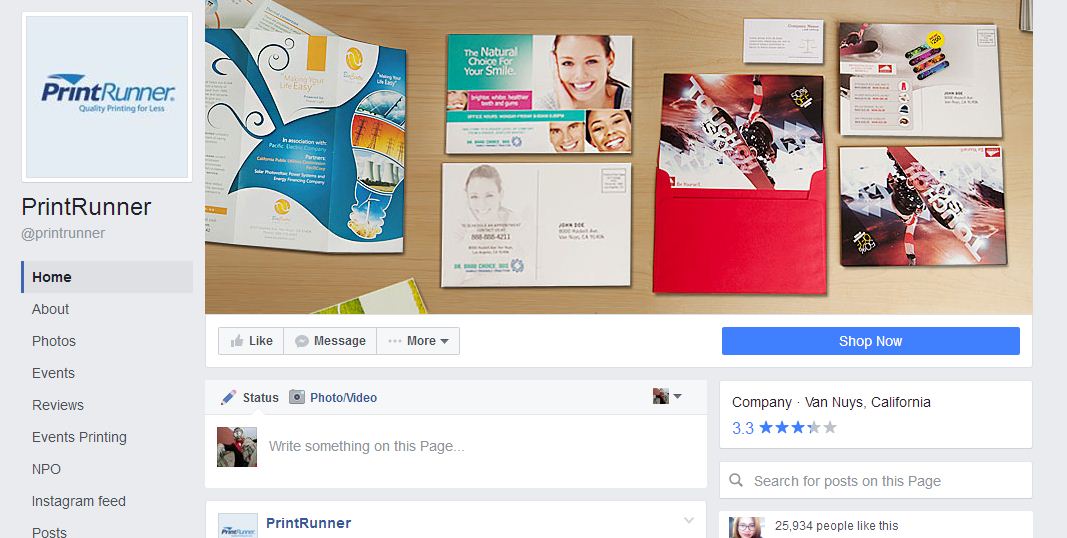 To create a call-to-action button on your Facebook Page, simply follow these steps:
1. Visit your page and look for the "+ Add a Button" option. It should be in the row with the Like button on the lower right area of your cover photo.
2. A dialog box with options should appear. Select the button that is appropriate for your business. Each button actually has some specific options unique to them. In our case, we chose the "Shop Now" button which leads to PrintRunner's homepage.
3. If you want to lead mobile users to an app, choose the appropriate button. Select "Yes" on the "Set up a link to an app?" option. Follow the instructions in the next page.
4. Click "Create" and you're done!
Should you use the Facebook call-to-action button?
If you have been a Facebook Page administrator for as long as I have, you might have noticed a decline on your Facebook reach a few months back. Facebook actually changed the algorithm on each individual user's news feed. Only those pages to whom these users interacted frequently would show frequently. This encourages businesses to use Facebook's advertising features which is a revenue channel for them. It's understandable because Facebook is a free service and this is one of their revenue streams.
Looking beyond that, using the call-to-action is more of a benefit than anything else. For one, it is free to use and it is easy to set up. Probably the better reason is the integration of your Facebook marketing into your business itself. Before the call-to-action button, you were limited to linking your page per post or putting your website into the About section of your profile. No one goes there. With the CTA button, your website or whatever webpage you want to link to can be spotted easily. Furthermore, you can measure the metrics in Facebook itself if you didn't set up a UTM code.
Which Facebook call-to-action is right for you?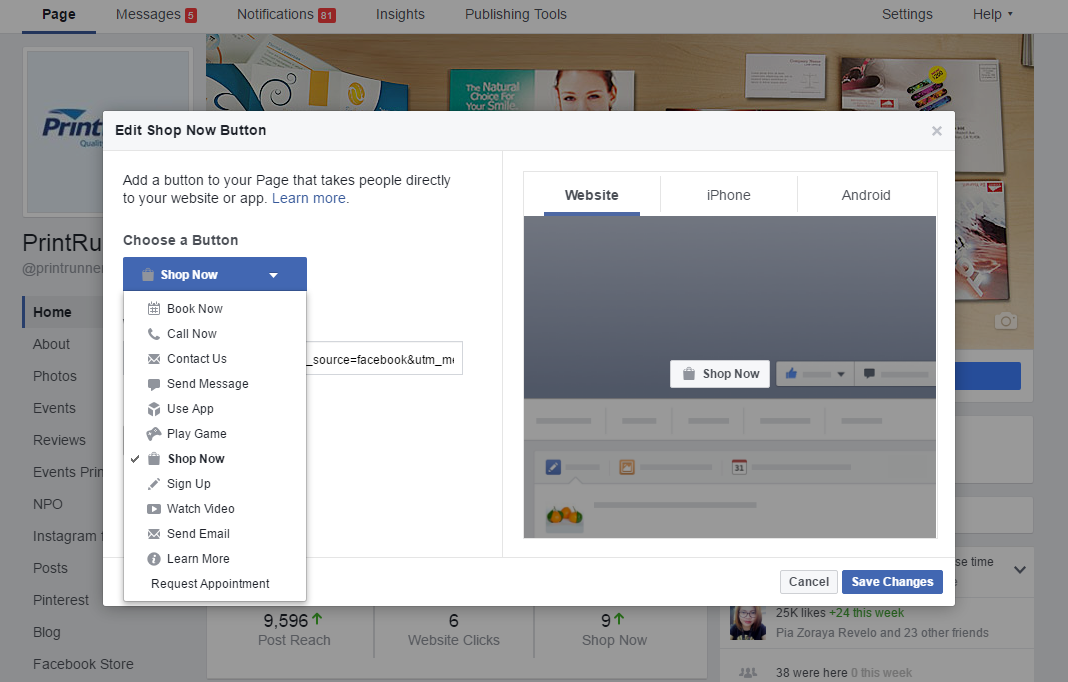 Currently, there 12 available Facebook call-to-action buttons. Which button you should use is highly dependent on the objective you want to achieve. Here are some ideas to get you started:
1. Book Now – Useful for hotels, restaurants, clinics, and other businesses and services that usually requires prior contact.
2. Call Now – This one is quite general and can be used by almost any business. If you have a dedicated phone number for your business, you can use this one.
3. Contact Us – Another general button. You can link to a webpage where leads can see your contact details.
4. Send Message – If you prefer answering inquiries within the Facebook Page, then this one is right for you. A neat feature of this button is the Instant Reply feature where you can customize a response that is immediately sent back to the sender.
5. Use App – If you have a mobile app, you can use this button to link to the particular page where they can download or use your app.
6. Play Game – This is great for businesses in the gaming industry. As with the "Use App" button, you can link this to the website or app store where they can download the demo or play the game.
7. Shop Now – Great for e-commerce companies like ours. Use this to drive visitors directly to your website to browse your item catalog.
8. Sign Up – If you want to build your mailing list, or if you maintain your own forum, this is the best button to use.
9. Watch Video – Are you also doing some YouTube or Vimeo videos? You can lead your visitors into your video accounts with this button. You can also use Facebook's native video support and upload your video here, if you want more views.
10. Send Email – With this button, you can directly input your email address so users can contact you.
11. Learn More – Neat button, especially for products and services that need further explanation. You can input your About Us webpage here.
How to use your Facebook call-to-action button effectively
1. Use your cover photo to highlight your button. While Facebook already did a fine job highlighting the call-to-action button, you can nudge your visitors to check it out using your cover photo. Using an arrow to point to it is a good way to give it the spotlight.
2. Create a specific landing page for Facebook. Reward your visitors for clicking on your call-to-action button by creating a specific landing page for them. This works well if you are running a special promotion in your social media marketing.
3. Test each button by reviewing metrics. The clickthrough rate for each button may vary per type so be sure to test them thoroughly. Using Facebook Insights, track which button is most effective with your target audience.
Which Facebook call-to-action button do you use for your business? Tell us how you optimized it in the comments section below!
(Visited 360 times, 1 visits today)