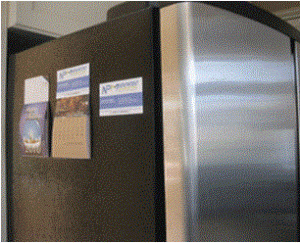 If you are like most small business owners, the effectiveness of your marketing programs is one of your biggest concerns. You already know that print campaigns, cable TV spots, radio ads, or billboards are often too expensive for a modest budget. But how can smaller companies send a big message, and get brand recognition throughout the day, without breaking the bank?
The central message board for most households is usually the refrigerator.  Grocery lists, chores to be done, errands to run, important phone numbers, notes to the kids—they all get stuck to the good ol' ice box—with a magnet. If you're like most people, you probably have at least a few on your own fridge right now, whether they're holding up your child's artwork or maybe a looming "honey-do" list.
High Quality Magnets
High quality magnets are a terrific way to give any advertising budget more bang for its buck.
• Simple business card magnets keep your logo, telephone number and website within easy reach of your customers—perfect for plumbers, electricians, exterminators, auto repair shops, veterinarians, "Urgent Care" clinics and more. A magnet with a calendar is especially effective—it will likely be on display all year long.
• Restaurants with delivery service can use larger magnets to promote quick-order menu items or "day of the week" specials.
• Retail stores can send or distribute magnets to customers as a reminder to "Save the Date" for an upcoming big sale. They're also a great giveaway at checkout.
• Magnets are lightweight and can be sent to customers as part of a direct mail campaign. They're also perfect to hand out with a written estimate.
• Tradeshows, conventions and other public expos are ideal venues for distributing these little advertising machines as giveaways.
For only about fifteen cents each, PrintRunner.com can help you make your message stick! They offer high-quality magnets in 9 different sizes, and they'll print your design using full-color, glossy UV-coated inks—for no extra charge. You can choose to upload your own artwork, or ask their design experts to bring your idea to life.
However you choose to distribute them, magnets provide a great return on a relatively small investment.