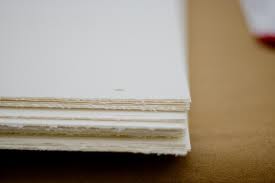 There is a lot talk about the importance of strong design and inventive distribution when it comes to the effectiveness of printed materials, but one of the most essential yet underrated factors in the success of any print endeavor centers on the quality of the materials used – namely, the paper. In many ways, your print items are only as good as the paper they're printed on. The type of paper stock you select can affect everything from the appearance of the text and images, the vibrancy of the color and durability of the item itself. Paper stock also offers people both a visual and a tactile experience, which means that if your paper stock looks and feels cheap, your content will seem cheap or chintzy by association.
PrintRunner.com is proud to offer customers a wide array of high quality papers and card stock, including the following paper options:
14pt C2S. This is a sturdy cardboard stock with a glossy coating on both sides of the page. It's ideal for items that need to display durability in order to facilitate transport and constant use, such as business cards, postcards, presentation folders and more.
100 lb Gloss Book. Similar to high quality magazine pages, this type of paper is glossy, to give each page a professional finish, and perfect for folding. These qualities make it the perfect choice for the pages of a catalog, materials for mass distribution such as flyers, and brochures.
100 lb Gloss Cover. A heavyweight, glossy card stock that is also good for folding, gloss cover differs from gloss book in that it can be used for the covers of a catalog, brochure or calendar, as well as items like door hangers that need to be able to withstand exposure to the elements.
70 lb Stationery. This is a dense, smooth paper that is uncoated and acid-free. It can be used for actual stationery, as well as notepads, newsletters, letterhead and more.
24 lb Classic Crest Stationery. A paper that is bright white and perfectly smooth, in addition to being both inkjet and laser printer compatible. Another classy choice for letterhead, stationery and so on.
Crack-n-Peel Paper Stickers. Your words and/or imagery will be printed on one side of this adhesive-backed paper stock for easy removal and maximum adhesion.
Vinyl Bumper Stickers. Made of a durable woven fabric that was created to resist both water and the fading effects of the sun and the elements, these vinyl stickers are perfect for both indoor and outdoor use.
In addition, PrintRunner also offers a 13pt 100% recycled paper option for environmentally conscious customers. This paper helps protect the earth without forcing you to compromise on quality. The finish is bright and pristine, the paper sturdy and the color reproduction capabilities unparalleled. It is also the only paper stock available in North America that is made of 100% recycled fibers and bleached without the use of chlorine compounds.
If you're interested in a type of card stock or paper not listed above, don't hesitate to submit your request to the PrintRunner team!
(Visited 60 times, 1 visits today)