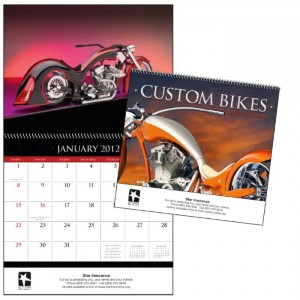 What's one of the most practical gifts you can give your loyal customers during the holiday season? It's a great marketing tool that gives you presence year round in your customer's home or office. It can feature colorful design and photography, events related to your business, and even include coupons and other incentives to drive sales. It's calendar printing, of course, and now is the best time of year to get started, if you haven't already.
Calendar Printing
It's important to stay in touch with your customers and let them know you're thankful for their business. This Thanksgiving and holiday shopping season, say thanks with a free calendar to kick off your seasonal marketing strategy. With full-color printing, paper options, and custom formatting options you can create a calendar that's unique to your business and features your logo and even your products.
Here are a few ways you can personalize your calendar and use it to keep your business top-of-mind:
Offer a coupon each month for a different product or service to keep your customers returning back to their calendar
Provide contact information on each page, so you're always just a quick phone call or e-mail away
Highlight special dates as they relate to your business; for example, an annual sale, grand opening or product line introduction
Printed calendars can work for you in many ways. Twelve months and 365 days worth of marketing opportunities are available in a cost-effective print product that your customers will actually find useful. Say thanks to your loyal customers and new clients with a printed calendar.
(Visited 52 times, 1 visits today)