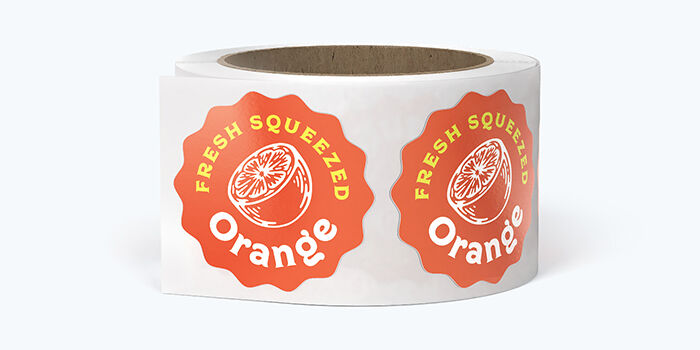 Custom roll stickers are the way to go if you want to keep a large amount organized and ready for rapid application. It can be used in a machine. Ideal for your small business custom packaging like personalized boxes, bags, bottles and more.


Variety of paper available
Gloss or matte coating
Available in multiple shapes
Sticks on any surface
Fade Resistant
Product Features
Great Quality

Sticks on any surface

Fade Resistant

Roll & Cut-to-Size

Bend and Peel Backing

Custom Shape

Custom Size
Roll Stickers: Do More With Less
There are plenty of benefits to custom roll sticker printing. If you're on the lookout for stickers but aren't sure which type your business needs, don't worry. Roll stickers are completely customizable to suit any purpose. Here's what you can do with roll stickers:

Save time. Need to apply stickers fast? Our stickers are printed and spun around a spool. They can be used with dispensers for fast and efficient sticker application. If you are ordering more than 250 pieces, roll stickers are your best option.

Design custom shapes. We offer roll sticker printing in four (4) shapes including square, rectangle, circle, and oval, with a range of different sizes from 0.5" x 1" to 5.5" x 8.5". For custom shapes, you can create any design and we'll trim the sticker according to its exact shape.

Choose more materials. Our roll stickers offer the most options for indoor and outdoor materials. In addition to our premium white sticker paper, we also print on biaxially-oriented polypropylene (BOPP), white vinyl, and Estate adhesive paper. Each of these materials also come in a variety of colors and textures to let you select the best one for your brand.

Choose PrintRunner for all your custom sticker needs. Order today and enjoy free shipping on qualified orders.
---
Customize Your Roll Stickers
Here's how to create custom roll stickers with PrintRunner:

Shape and Size

Use the order calculator and choose the shape that goes with your design. After choosing your preferred shape, the calculator will provide corresponding size options. For specific custom shapes, select the width and height for your design. This cuts to the shape and edges of your layout.

Material and Laminate

Roll stickers come in four (4) materials: White premium sticker paper, white vinyl, BOPP material, and Estate adhesive paper.

White premium paper is our most popular indoor material and comes with a smooth, non-coated finish. For more uncoated options, Estate adhesive paper has a natural, textured finish that suits elegant and minimalist designs.

For outdoor and waterproof options, choose between white vinyl and BOPP material. White vinyl is long-lasting, weather-resistant, and comes with a high-gloss finish. BOPP works great for products that will be exposed to moisture, oil, and refrigeration

Some roll sticker materials have the option to add gloss, matte, and high-gloss UV coating for extra protection.

After selecting the main components of your sticker, just select the unwind direction and quantity. For printing turnaround, we can have custom roll stickers ready for shipping in just 2 business days.

Confirm your order by 5 p.m. ET and your stickers will ship out in 48 hours. Printing turnaround does not include weekends, holidays, and delivery time.

Ready to order? Upload your design on the website or try our easy-to-use online design tool to create a layout. We also offer free blank guideline templates that you can use with any design software application.
---
Q&A
What size do your roll stickers come in?
This depends on the size and quantity of your sticker order. We use a 3" diameter core and for most roll sticker orders the total diameter ranges from 4" to 8" per roll. The quantity of stickers per roll decreases as the dimensions get bigger.

I need two different sizes. Do I have to place two different orders?
Yes, each roll can only accommodate one size and design. You may order another roll if you want to print a different size. Roll sticker quantities start at 250 pieces, but if you need fewer stickers try cut-to-size sticker printing.

How durable are these roll stickers?
Our stickers are made of high-quality materials that last when applied properly. If you need indoor stickers that won't get in contact with moisture, white premium paper sticker is the best option. If you're looking for stickers that won't deteriorate due to outdoor exposure, we recommend white vinyl material.

What unwind direction should I choose for roll stickers?
The unwind direction determines the direction your design will be printed and how they unwind from the cores. If you're using a dispenser or machine to apply stickers, this option is important. Select the required unwind direction so that the label goes on your product in the correct orientation.

Where can I download your sticker templates?
Just click on the Templates tab on this page, located below the order calculator. You'll find a list of sticker sizes and shapes templates to choose from. These blank templates are compatible with popular design software like Adobe Illustrator, Adobe Photoshop, Adobe InDesign, and Microsoft Publisher.
Download Blank Print Templates
Set up your print file with correct trim and folding lines by downloading a blank template for your preferred design software. 
Rated

5

out of

5
by
ABH Creations
from
Amazing
The stickers came out amazing and it was delivered very quick and with such an amazing price I love these guys I'm always going 2 go 2 these guys when I need stickers made I highly recommend it
Date published: 2019-06-23
Rated

5

out of

5
by
Farmgirl Paints
from
Love love!!
I took a picture that looked pretty crummy and the design team helped me pull together a packaging sticker for my business. It turned out better than I ever could imagine. So pleased!!!
Date published: 2019-02-03
Rated

5

out of

5
by
AllisonB
from
Quick shipment and great quality
I ordered a roll of 1,000 stickers, and they were produced and shipped several days faster than expected. Very happy with the quality.
Date published: 2019-01-08
Rated

5

out of

5
by
WinsupplyRobin
from
Stickers turned out awesome!
We ordered the metallic finish for a roll of stickers and they turned out amazing! Really eye-catching!
Date published: 2018-12-17
Rated

5

out of

5
by
elf11
from
Great products and service!
I recently ordered roll stickers as well as postcards. One of the print items was more complicated in terms of layout, but the technical tam worked with me and we got everything perfect. The "simple" order (postcards), were produced quickly, perfectly and arrived earlyer then expected. Thank you for great quality, competitive pricing and phone support when I needed it.
Date published: 2018-07-16
Rated

5

out of

5
by
Valerie
from
Great quality, love these stickers, we are putting them everywhere.
Date published: 2018-07-03
Rated

5

out of

5
by
Allie_eytch
from
Quality Stickers
I ordered my bands stickers from print runner, and very pleased with how they turned out, and the price was fair.
Date published: 2018-06-11
Rated

5

out of

5
by
NonprofitMarComm
from
Great quality and great price
We just got our stickers and they look phenomenal, stick well and the rolls are easy to use. I'm really happy with my purchase and can't believe we got 10,000 stickers for less than we would have been charged for 5,000 stickers at other vendors.
Date published: 2018-06-11
Rated

5

out of

5
by
Anna C
from
Great quality AND value!!
After comparing several different companies, I found PrintRunner had the best prices. Once my order arrived (logo stickers) I knew I made the best choice! The quality is awesome and the shipping was quick. This is now my "go to" for my business needs :)
Date published: 2018-05-25
Rated

5

out of

5
by
Moocah
from
Great quality
Great quality. I didn't price compare, but the quality was great.
Date published: 2018-05-08
Rated

5

out of

5
by
WDWDFNN
from
Wow
Fast, correct printing. Ordered our custom decals showing our logo.
Date published: 2018-01-04
Rated

5

out of

5
by
VeeL
from
Great print quality
I ordered 2500 x 6 stickers on a roll, very happy with how they turned out. However, I would have preferred 500 or 1000 stickers per roll not a total of 2500 in one roll (hard to manage when place these stickers on my packaging. Otherwise I live them.
Date published: 2017-12-26
Rated

5

out of

5
by
Meller
from
Vivid Color and Awesom Quality
I ordered these stickers for an incentive we are running within our department and when I received them, I was so excited with how they turned out that I ran down to my boss's office to show her! She was thoroughly impressed as well. Also they were packed very well! Thank you 'Print Runner'!
Date published: 2016-10-26
Rated

5

out of

5
by
Qtllc
from
Great products.
I'm so pleased. I bought a thousand. Such high quality will be ordering more..
Date published: 2016-10-12
Rated

5

out of

5
by
Popcorn
from
Great Customer Service
I was running on a tight timeline and your team's awesome customer service allowed me to receive the labels on time and they looked great.
Date published: 2016-10-12
Rated

5

out of

5
by
MovingNY
from
Great Price! Quick Turnaround!
We had an imperative need for quick stickers for a corporate event and I must say I was pleasantly surprised! Great work, decent price, super quick turnaround time.
Date published: 2016-10-10
Rated

5

out of

5
by
SarahT
from
On Time and Just What I Needed!
Out of 3 quotes, PrintRunner was the least expensive. My stickers are good quality and came on time!
Date published: 2016-09-21
Rated

5

out of

5
by
pittzer
from
Arrived as ordered.
No problems here. Exactly what I was expecting. Good quality. Good transaction
Date published: 2016-09-07
Rated

5

out of

5
by
rachel h
from
great Quality, good People
Thr stickers are great and Printrunner resolved a small issue we were having, thanks guys !
Date published: 2016-08-29
Rated

5

out of

5
by
TahoeLovin
from
Great everything!
PrintRunner's staff is great, the service was timely and the stickers are amazing!
Date published: 2016-08-22
Rated

5

out of

5
by
mitch
from
Nice quality roll stickers
Good quality, good price, and quite fast. Thank you!
Date published: 2016-07-18
Rated

5

out of

5
by
Ship repair VA
from
Stickers for hardhats
Very easy process and quick response with proof. No changes were needed. Will order again when need arises. Good quality.
Date published: 2016-07-11
Rated

5

out of

5
by
jkay
from
GREAT!
Very happy about how they turned out! Much cheaper than most places too!!!
Date published: 2016-07-08
Rated

5

out of

5
by
LB of Temecula
from
When I received what I had ordered, it was perfect
When I received what I had ordered, I was very pleased with the quality. I will be using Print Runner for my Reorder and maybe start looking at other things they can help me with in my business.
Date published: 2016-05-09
Rated

5

out of

5
by
Daniel
from
Stickers look great
I shopped around, super competitive pricing, fast professional service, and excellent quality. Thanks guys!
Date published: 2016-04-14
Rated

5

out of

5
by
JimB
from
Nice labels
This was an easy process and the labels look great.
Date published: 2016-04-04
Rated

5

out of

5
by
Debilu
from
Fantastic Labels
I ordered 2000 clear oval shaped logo stickers for our Christmas Cards and other items. They came in 2 weeks and are PERFECT!
Date published: 2015-12-07
Rated

5

out of

5
by
Topsfield Bakeshop
from
Great service- Great Stickers!
I had to find a new printing company and I am thrilled with the outcome! I was concerned about quality, color and shipping- all were spot on. They were able to adjust my logo size to maximize space. I will be ordering all our stickers here.
Date published: 2015-05-03
Rated

5

out of

5
by
Book N Bean
from
Excellent in quality and price!
I ordered round stickers for our church coffee shop and was very pleased with the quality of work!
Date published: 2015-04-30
Rated

5

out of

5
by
WCRNashville
from
We are so happy!
I ordered thousands of logo stickers for some trade shows we were doing. This company was by far the least expensive and the quality was amazing! The logo was printed beautifully and exactly as I wanted it. I have saved this website for all my future orders! Thank you!
Date published: 2015-04-30