Full Color Calendar Printing
What Makes Up an Ideal Custom Calendar Online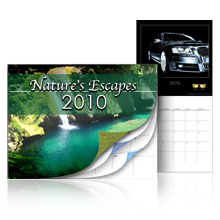 When trying to grab the attention of your target market, you may need to utilize effective and catchy promotional tools that are worth the cost. You should also be able to deliver the right message and strengthen your brand through longer exposure. However, you might feel doubtful about achieving all of these goals when you have a tight budget. So how could you be able to attain such results without having to overspend? You might find a solution by using
custom full color calendars
for your marketing strategy.
Full color calendars have various pages that can help you market your business in a better and more effective way. With each sheet, you can creatively present and explain the good points of your company. You would also have the entire year to remind people that you are providing great offers for them. Plus, you might just gain the savings that you want even when you'll produce a set by choosing the ideal full color calendar printing service.
With the right printing offer, you may gain benefits that you won't get from other services. Here are some of those ideas that can help you decide if going for these tools would be the right promotional choice:


Provides affordable and professional printing. With right printing service, you would notice that you are gaining savings while still getting the printing that you need. By comparing the prices with others stores, you would notice the difference on how much you could earn. At the same time, the quality that you want isn't sacrificed since the online printing store values you as a customer.


Offers print samples at no added cost. It's important to have an idea on how the printing company would handle the job for you. This is why you should be provided with print samples before placing an order. These materials should not cost you at all if the store wants to win your trust as a customer. After all, who would want to pay for sample products right?


Delivers print order faster than others. When using calendars as your promotional tools, you would need to give these out before the year ends or at the first month. At this point, you should be able to receive your items as early as possible. An ideal online printing service would make sure that your order would arrive right on time, or even earlier. So it's best to always check the print turnaround and delivery times.
These are just some of the factors that would make up a reliable full color calendar printing company. There may be other things which could make that store the right choice. Just make a quick comparison and you won't have a problem ending up with the right printing partner.