Vinyl Sticker Printing for Advertising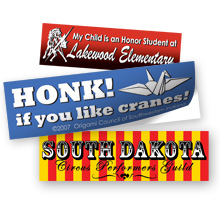 Promotion a business, product, or even have been long practiced in the advertising industry. Marketers often use flyers and postcards. But now, marketers are discovering vinyl stickers' worth. These are better and long lasting than the typical marketing tools. Vinyl stickers are a great way to advertise. It is because you can order in large quantities in a relatively cost-effective way. If you are still on doubt of these stickers, check out its impressive characteristics:
Vinyl stickers are great advertising medium. The main reason is that it is completely customizable. You can upload pictures or choose from popular templates to get across your message. Moreover it is weather resistant. You can also produce these in large quantities to communicate with a wide margin of potential customers. This is one way to "brand" your business through mobile advertising. The more your company's name is exposed, the deeper its imprint in the consumers mind. You can also use these stickers for personal use such as labeling things and more. The best thing about these is it costs less than other promotional materials. Whether you are a starting or big business, the possibilities for vinyl sticker printing are endless.
If you are still not convinced of how efficient and useful these stickers are, you may check out more articles on out Learning Center.