Vinyl Sticker Printing
Advertising with Custom Vinyl Stickers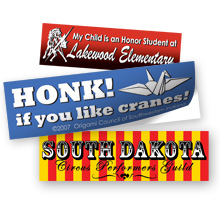 When you have a business, product, event, or accomplishment that you are proud of, you want to get the word out any way possible. There are the traditional forms of announcement, such as flyers and postcards, but there is an even better, longer-lasting option available: Vinyl Sticker Printing. Vinyl stickers are a great way to advertise most things, especially because you can order in large quantities in a relatively cost-effective way.
Advertising with Printed Vinyl Stickers
Vinyl stickers are a great advertising medium. Since they are a blank slate for anything you have to say, they are completely customizable. You can upload pictures or choose from popular templates to get across your message. Vinyl stickers are great for bumper stickers. The vinyl makes them weather resistant so that you can display your sticker year round. Bumper stickers are ideal mediums for promotions because you can print them in large quantities and distribute them to a large number of people. This is one way to "brand" your business. The more your company's name is seen the deeper the imprint in the consumers mind. So if your vinyl sticker is seen on cars around town, your vinyl sticker is essentially acting as mobile advertising and creating a brand through a simple sticker. You can also use vinyl sticker printing to share personal news such as your child's Honor Roll status or the college they are attending. Or maybe you have a family reunion approaching and you want to have a sticker made to commemorate the event and give to the family. The possibilities for vinyl sticker printing are endless.
If you are looking to have stickers printed for either marketing or personal reasons, vinyl sticker printing is the best option as far as quality goes, as well. The vinyl ensures a higher level of picture quality and sharpened details. You want to make sure that if you are investing in stickers that you have the most attention-grabbing sticker possible. Since stickers will most likely be displayed in places that need to quickly be noticed, a vinyl sticker will be more likely to capture the eye of a passerby as opposed to a matte finish.
Vinyl stickers are a viable option for endeavors with limited budgets. For example, if you are in a local band or theater troupe and you want to promote upcoming shows or even a website so you can build your fan base, vinyl sticker printing is a popular choice. You can print vinyl stickers to be handed out at shows and in local performance spaces. This type of marketing for your group will provide similar branding benefits as listed above for businesses and companies. So whether you are in show business or retail business, vinyl stickers can be used to spread the word to the world about your specialty.