Catalog Printing Tips
Things to Remember about Catalog Printing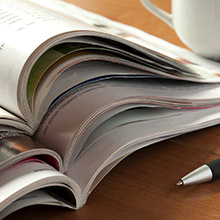 Using catalogs is important when you have a lot of products or services that you wish to share with your clients. These book-like materials can effectively present every detail about your offers which could increase your chance of gaining new customers. You just need to make sure that your set is carefully designed and professionally printed for your promotional tools to be at their best.
However, if it's your first time to create these book-like materials for your marketing campaign, you might be confused on how to produce your items especially on the
catalog printing
part. To help you, here are quick tips you should remember:


Use a catalog template as your guide. Make things easier for you by using a file template when designing your set. Check out the online printing company that will handle the printing for you and search for free templates. By using these, you can instantly have a guide for your project plus the printing will be more convenient and fast.


Add images with high resolution. Catalogs always have pictures on each page for added creativity and style. When choosing photos to include on your project, check the resolution and make sure that this is set on 300 dpi or higher. By doing so, the images would be printed properly and would appear more vibrant.


Proofread project before printing. Most of the time, the printing problems that happen to catalog projects are caused by the lack of proofreading before the production starts. To avoid this, always take a second look on your work. You might also want to go with an online printing company that provides Free File Check service like PrintRunner. With this free offer, you won't have to worry about making mistakes with your work since a design expert would check your project and point out what needs to be fixed.
These are simple yet helpful tips that you could try to avoid encountering problems on your printing. Always take time in doing your project and choose the ideal printing store too. After all, a successful campaign would depend on how well you made your set plus your strategy of sharing out the materials.