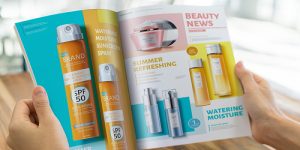 Catalog marketing is the sales-generating lifeblood of many businesses. If you haven't taken a good look at yours recently, now may be a good time to look it over with a critical eye to be sure you're getting the most bang for your buck. This post includes a few things to look out for and consider when putting together your printed catalogs.
Effective Catalog Marketing
Color photography and artwork can really make a splash. Your budget may not allow for groundbreaking graphic design, but some simple and tasteful art can really jazz up an otherwise blah layout and highlight your most important selling points. Colorful, bold headlines and bullets can draw your reader in and guide their eyes across the page, hitting on all the right points.
Another component to consider when thinking about pushing the right buttons with your readership is your copy. It should tell a story that captures the essence of your product. Make it work for you by seeking out short but descriptive sentences that paint a picture and help your prospects really imagine themselves using and benefitting from a product.
And speaking of benefits, make sure your copy is letting your customers know the "end benefit". There are product attributes, there are benefits of said attributes, and then there's the "end benefit". For example, a garden hose transfers water to keep plants healthy and hydrated. That sounds good, but what's the end benefit? Here, it's that the gardener can enjoy their healthy plants all summer long.
Your Catalog color photography, artwork, headlines, and copy should all speak to the reader. Keep things personal and conversational, and you'll engage your audience more. Tell them what's in it for them with the "end benefit", and you've got them hooked. To add the finishing touch at the print shop, choose a paper style that reflects your business. Fashionable and cutting edge? Maybe glossy is the way to go. Green and thrifty? Try recycled paper. There are plenty of combinations available and the PrintRunner.com staff will help you make the right choices for your customers.