Sticker Advertising
Stickers for Advertising Business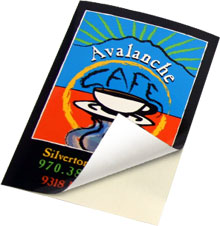 One of the tough challenges you need to overcome when owning a business is advertising. You need to know what promotional tools can keep you on the race. At the same time, these materials should be worth the investment especially when you are on budget. Now, if you haven't thought of anything yet that would fit this strategy, then it's time to try out with cheap personalized stickers.
These business stickers are affordable tools which can prolong your brand exposure. By being able to creatively and perfectly make your own set, you can save a lot on your advertising costs. You could even be noticed by more people who can turn into your new customers.
Now, for this type of advertising to be successful, the key is its planning which would require your time. To make it easier and more fun for you, here are marketing tips which you could try out:


Think about how you want your stickers to look like. Before you could even send out the items to your potential customers, you would need to come up with a set that will speak volumes about your business. Take time to plan the sticker design and make sure it will deliver the right message. You must also include icons or colors associated with your company for better branding and exposure.


Scout the areas where your target market could be. Avoid handing these to the wrong people by finding out where your potential customers are. Make a quick survey or view of the public areas filled with different types of people. Do a quick assessment on the crowd and check if majority would be interested about your business.


Make a good introduction when distributing. Impress the people just by introducing yourself and what your business is all about. Make it even more entertaining by creatively distributing the decals. You can create a scenario or come up with a catchy greeting. Let the people instantly notice you and be delighted to take one from your wholesale stickers.
With these ideas, you can't go wrong in having a successful advertising move. Just remember to consider the people's feedback so you can gain the ideal results for your business.