Custom Sticker Printing
Some Helpful Guide & Samples for Making Creative Custom Stickers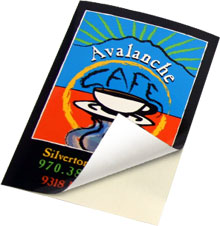 Custom sticker printing
is a service provided by online printing companies to help you achieve the ideal stickers for your business promotion. Adding a bit of your personality when printing stickers for promotions adds into creating an identity whom your target consumers can relate to. Every detail that you put on your promotional items such as the size, shape, design, layout, etc. speaks volumes about what kind of company you are.
When going for personalizing your promotional stickers, there are some things you must remember in order to make it work for you. Here are a few ideas to to keep in mind for your printing and marketing:
Applying the Right Design and File Formats
When going for online sticker printing, there are a lot of technical stuff that you need to be familiar with in order for your print-out to be how you expect it to be. For example, you must know that there are color modes in images, such as CMYK (cyan, magenta, yellow, key) and RGB (red, green, blue). Image files also have different file formats. JPG is useful for smaller file sizes but each save degrades the quality of the image file and is not very useful when doing a high quality printout. GIF does not degrade the quality but only uses 256 color and is only useful for animations. PNG is a lossless file type but it usually has a higher file size than other file formats. Contact your online printing service provider for more information.
Selecting the Appropriate Printing Options
You may have the best design, but if you'll be using the wrong specifications and materials for the printing, then your stickers might not meet your expectations. Be sure to go for the options that will complement the design and layout. Online printing companies usually have premade options which you can choose. However, if you want a customized option, contact the online printing company first to see if they could provide it.
Using File Templates when Possible
There are times when it can be hard to create your design especially when you're in a rush or you don't have enough design experience. This is where file templates come in handy. Some online printing stores like PrintRunner offer free downloadable templates that can guide you in customizing your stickers. You can get one for your project and have a more convenient and professional way of making your personalized stickers.
These are only some ideas that you consider when customizing your stickers. Keep them in mind and you won't have a problem on making the ideal set. The success of your promotion depends on your preparation. Invest a reasonable amount of your time and creativity when you're desiging stickers. At the same time, find a balance with quality and price in choosing an online printing company.