Custom Sticker Printing
Creative Stickers for Business and Personal Use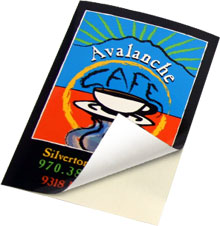 Custom sticker printing is a versatile promotional tool you can use for advertising your brand's products. You can raise brand awareness by printing personalized stickers for cars, giveaways or product labels. You can also use stickers for personal stuff - print them out for your scrapbooks or labels for your books, binders and even cabinet drawers.
You can choose different paper types and finishes depending on your project. Choose from matte or gloss finish. Matte stickers are non-reflective and lusterless. These are ideal for printing stickers with simple and minimal design. Gloss stickers on the other hand are smooth and are ideal for producing sharp and vibrant images. This finish is perfect in printing small detailed images.
Here at PrintRunner, you can print custom stickers in different paper types and finishes. Choose from a wide variety of sizes from 2" to 17" flat width. You can order from 25 to 50,000 pieces. Opt for black and white or full color printing. Contact us at 1-888-774-6889 for more details.