Catalogs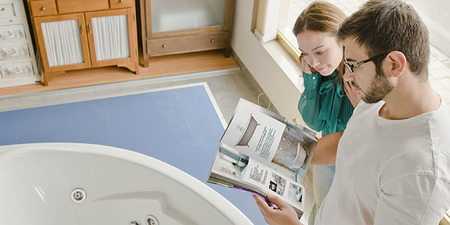 Superior quality printing
Available in glossy and matte paper stock
Turnaround time as fast as 3 business days
Free shipping for qualified orders
Free file check down to the fine details
Exceptional Catalogs From Printing to Turnarounds
---
If you are just starting your own business or if you need a more intensive brand campaign, you must maximize every means to advertise your product or service. At PrintRunner, we provide solutions to your business' printing needs.

We can help you increase visibility, enhance brand recognition, and improve your sales with our short- run or bulk catalog printing services. Our custom catalogs are printed in superior quality material. We use top-tier cardstock and premium matte and glossy finishes to ensure that your prints are not only sturdy but also visually appealing and a joy to browse. We also offer different sizes like the popular 8.5 "x 11" catalogs and different binding options like saddle stich and Wire-O.
Why Choose PrintRunner?
No matter what industry you're in, you can rely on PrintRunner to make your brand stand out through our professional custom printing services. We strive to provide quality printing services and on-time delivery at the best prices.

Here are more reasons why we're the printing company to trust:


Multiple customization options. We provide various ways on how you can personalize your print products. Our wide variety of paper sizes, shapes, materials, and finishes will let you design the best catalog your brand has ever seen.
Competitive pricing. We offer rates that are suitable for any budget. You can also save more when you print in bulk.
Free file checks. We can review your artwork for any technical errors to ensure that it comes out perfectly, free of charge!
Fast turnarounds. We can have your order shipped in as fast as 3 business days.
Free shipping. Get free ground shipping for qualified orders.
Free sample kit. Request for a sample kit before ordering from us. You can check out the material, finishes, and sizes up close to help you decide what goes into the production of your catalogs.
How to Order Custom Catalogs From Us
Follow this step-by-step guide to order your own catalogs:


Go to the product page. Under "Get Started Here", enter the specs you want (page size, number of pages, binding options, binding location, quantity, shipping, etc.) into the product calculator. You can also get an estimate of the shipping rates by entering your ZIP code in the "Estimate Shipping" field.
Upload your design by clicking Upload Artwork or click Buy Now/Upload Later to proceed to your shopping cart first and upload your design later. If you want to create your design from scratch using your preferred editing software, you can download our free print templates on the Templates tab of the product page.
In the Upload Artwork page, select where you want to upload your design from–your device, Dropbox, or from a recent PrintRunner file you worked on.
Upload your design and choose a proofing option on the right side of the page, Then, click "Continue" to checkout.
Double-check the information in your shopping cart and check out your order.
We will then review your file and send you a PDF proof within six hours after ordering. We'll notify you via email once your proof is ready. To check your PDF proof, log in to Your Account and review the file we sent you. Once approved, we can continue processing your order.
Your catalog will be delivered to you in 3 to 8 business days, as promised.
Incorporating Catalogs Into Your Business
---
While more companies devote time and effort to go digital, the use of catalogs has seen a resurgence in the past few years. An article published by Harvard Business Review reports that "response rates from catalogs have increased by 170% from 2004 to 2018." Studies have also shown that combining both efforts – print and digital – gives you the most mileage.

The use of catalogs as a marketing tool lies in playing with its strengths. Certain niches and markets are perfect for small catalogs, while some need more space for products and services to pop out even more.


5.5" x 8.5" is our smallest catalog size available. These are tall and slim which makes them ideal for showcasing products like jewelry, watches, and other small items.
6" x 6" is ideal for low inventory. With its square shape, you can put the focus on one item at a time, giving the product its chance to shine. Use these for bigger merchandise like furniture and other high-value items.
8.5" x 11" is the most popular catalog size, which is the same as most magazines. This works best for apparel and beauty brands, toy stores, and department stores owing to the need for bigger, blown-up photos as well as the sheer volume of products available.
Recommended Reading
10 Quick Catalog Design Tips You Need to Know
How Catalog Marketing Brings Apparel Shoppers Online
Take Your Printed Catalog to the Next Level
Frequently Asked Questions on Catalog Printing
What is the best size for a catalog?
The best size for a catalog is 8.5" x 11". This is as big as most magazines and is the most popular size for catalog printing. It's also perfect for larger images or if you're showing many products per page.
What paper would you recommend I use for my catalog?
If you want paper that has excellent writability, we recommend that you choose our 70 lb. uncoated paper.

If you prefer that your catalog has a reflective finish and you want vibrant colors to pop, our 80 lb. and 100 lb. glossy paper are great choices.

For catalogs with a muted, non-reflective finish, you'll find our 80 lb. and 100 lb. matte paper options are more suitable.

If you're looking for a denser cardstock with a reflective finish, we recommend that you use our 10 lb. glossy cardstock.


What's the difference between saddle-stitching and Wire-O binding?
Saddle-stitching is the most popular way of binding catalogs. In saddle-stitching, the paper is folded in two then the spine of the catalog is wired from the outside with the use of a staple. With Wire-O binding, the paper pages are collated then holes are punched along the spine. Wire hooks are used to bind the catalog in place.
Do you offer design services for custom catalogs?
Yes, we do. If you require help in making the artwork for your catalogs, PrintRunner has a team of professional design specialists to assist you. Get in touch with us by calling 1-888-296-5760 and one of our specialists will work with you to achieve your design goals.
Can you send a sample kit before I confirm printing?
I have my own design. How can I use my own file for printing?
If you have a ready-made catalog or page design, you can simply upload it to the website. In the product calculator, click "Upload My Artwork" and then "Continue". The browser will take you to a new page where you can upload your design from your computer, Dropbox, or a recently saved PrintRunner file.

Keep in mind that we only accept the following file types: PDF, JPG, JPEG, PSD, PNG, TIF, TIFF, EPS, AI, Publisher, DOCX, DOC, XLS, XLSX, PPT, PPTX, TXT, and CSV.

After uploading your design, choose your preferred proofing option and click "Continue" to checkout your order.
Is there a template I can follow to create the catalog's artwork?
Yes, there is. We provide downloadable print templates that you can use as a guide when creating your catalog's artwork. Download a print template by clicking on the Templates tab on the product page. You can prepare your print file with the correct format using PDF and JPG files, or in Adobe Illustrator, Adobe Photoshop, and Microsoft Publisher formats.
Is there a bleed area that I should be aware of when creating my design?
Yes. If your picture is not completely white on all four sides, it's important that you leave an additional 1/8" (0.125") on each side, so that it can be trimmed after printing.
What is the turnaround time for catalog printing?
The turnaround time for catalog printing is 3 to 8 business days upon proof approval. Please note that turnaround time does not include transit time.

To know how soon you can receive your order, view the estimated delivery date on the product page itself. Enter your ZIP code and you'll receive a list of shipping options as well as the estimated dates available for your order.
Will I get more savings if I order in bulk?
Custom catalog printing costs depend on size, materials, and quantity. Short runs come out more expensive than bulk catalogs so we recommend printing more to save more.

Ordering in bulk reduces the price per unit because we save time, shipping costs, and waste material.
What is the minimum and maximum order quantity for catalogs?
For short run catalogs, we accept orders below 100 and minimum of 25 pieces.

For bulk catalogs, we accept orders above 100 up to as many as 25,000 pieces.
How do I qualify for free shipping?
PrintRunner offers free shipping on orders $69.00 and above. Please note that additional charges may apply to shipments to Alaska, Hawaii, and Canada.
Download Blank Print Templates
Set up your print file with correct trim and folding lines by downloading a blank template for your preferred design software. 
Reviews
May 9, 2022
by Good Shepherd Preschool
( OR )
April 1, 2022
by Peregrine Design
( OR )
April 30, 2015
by St John