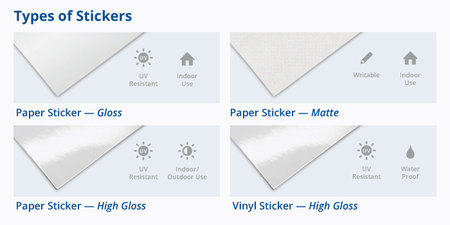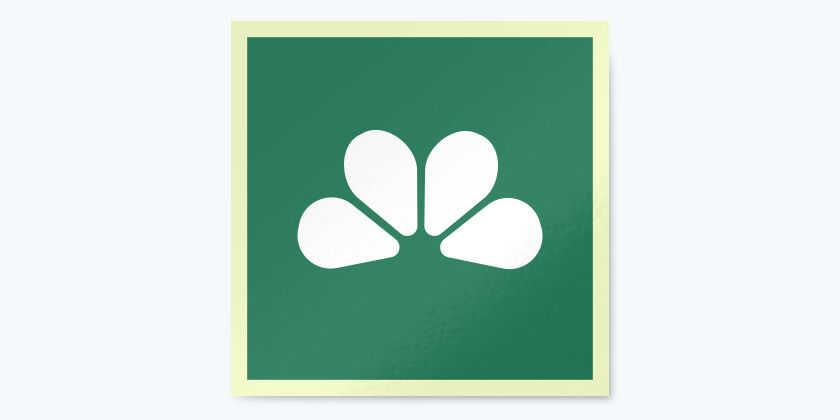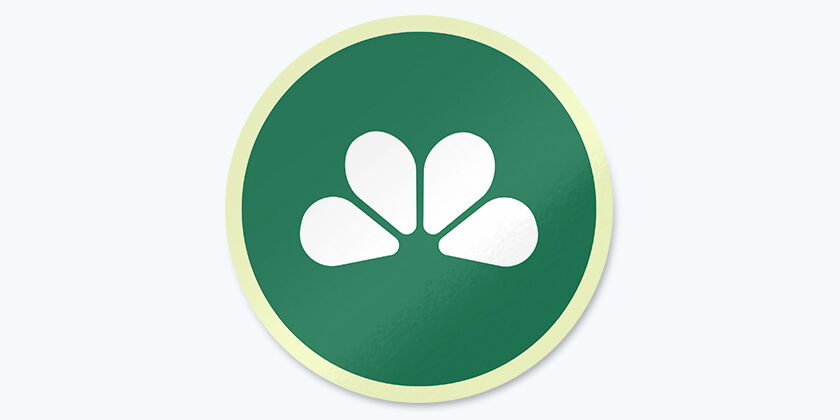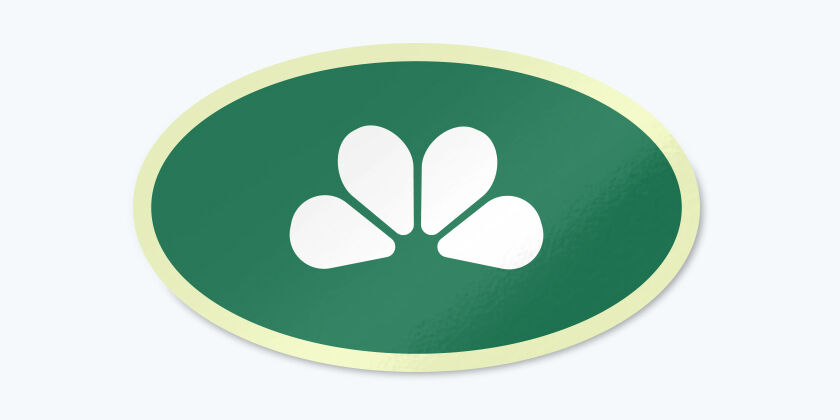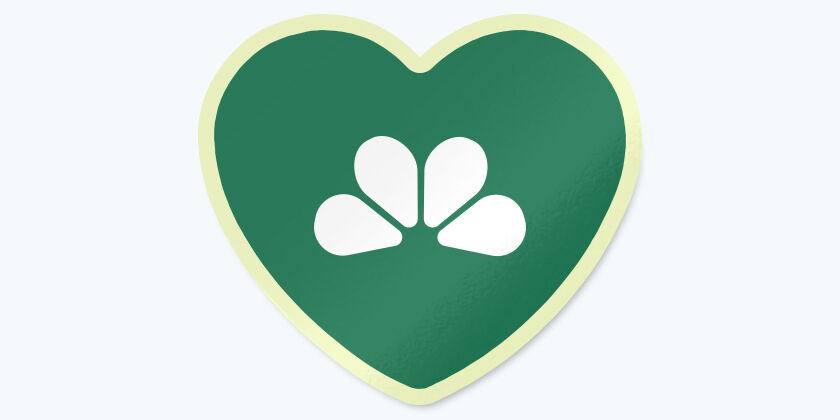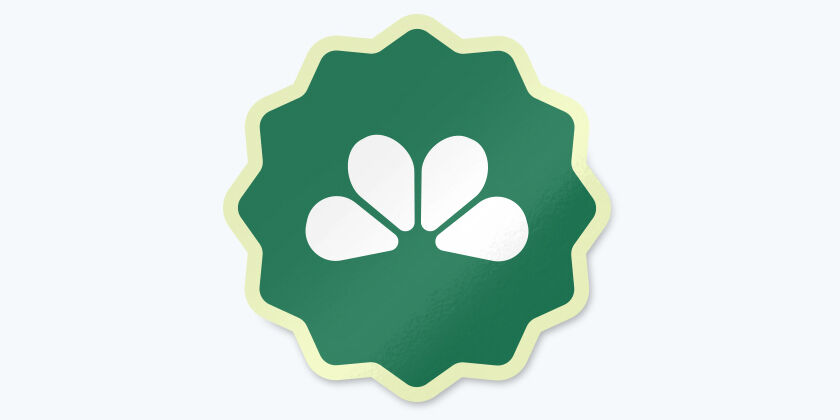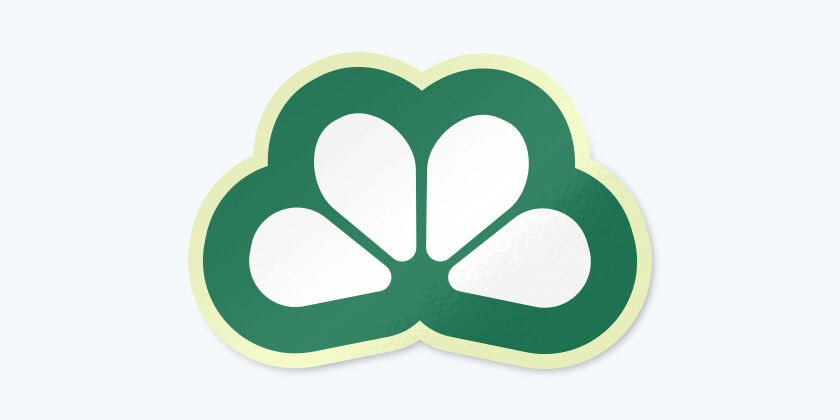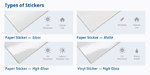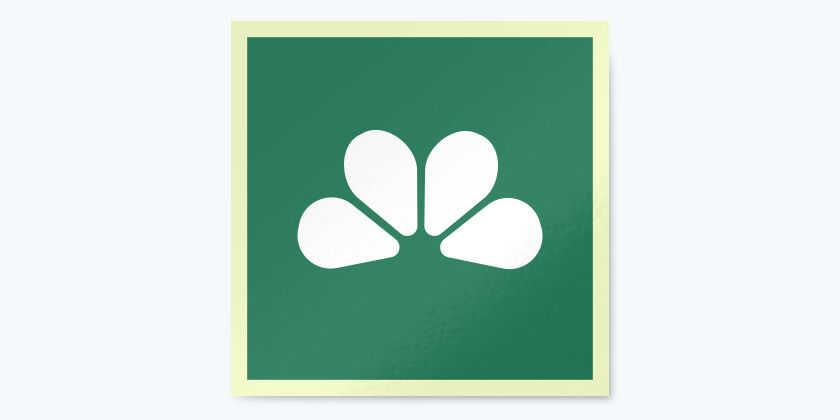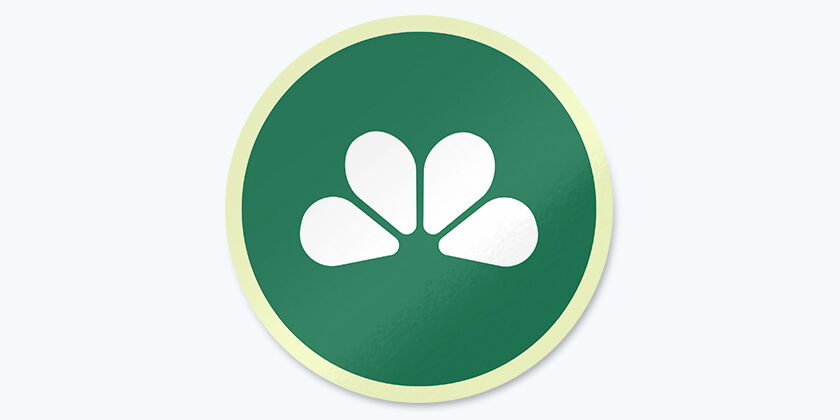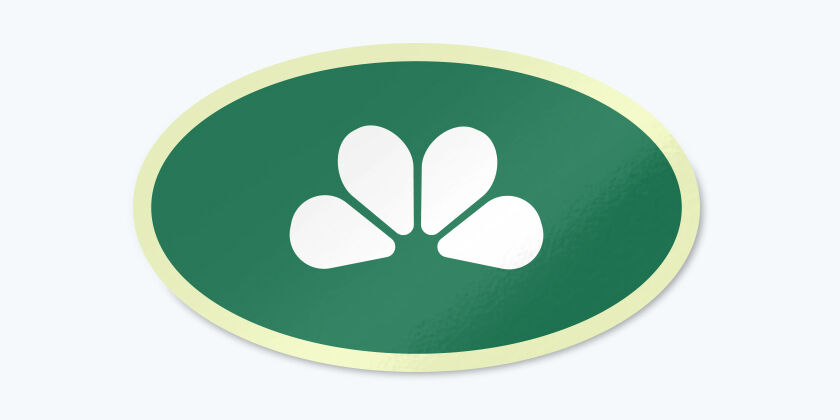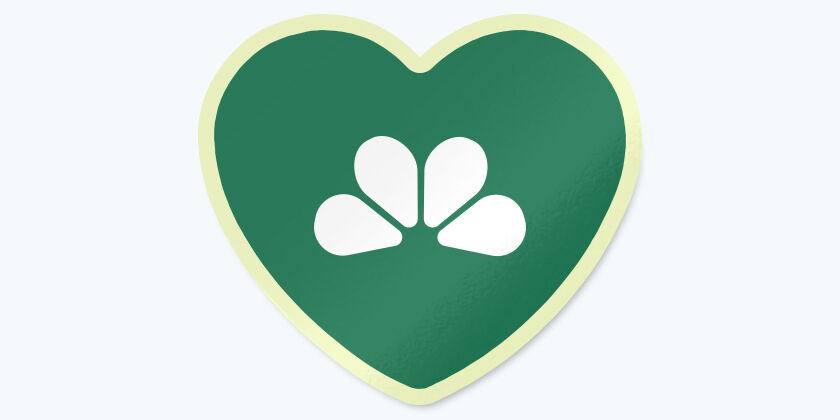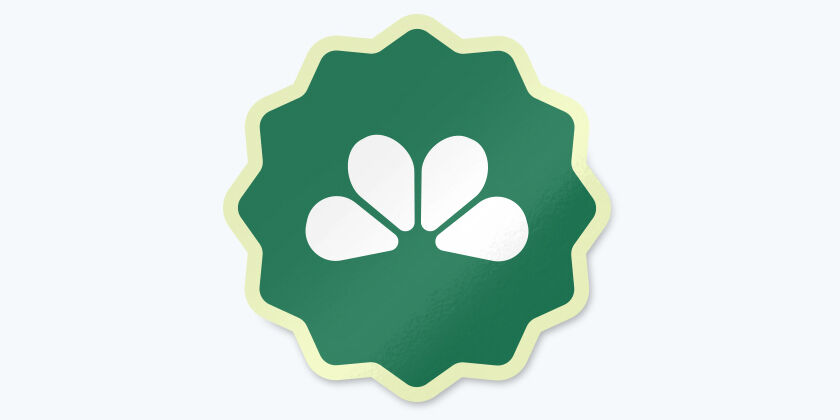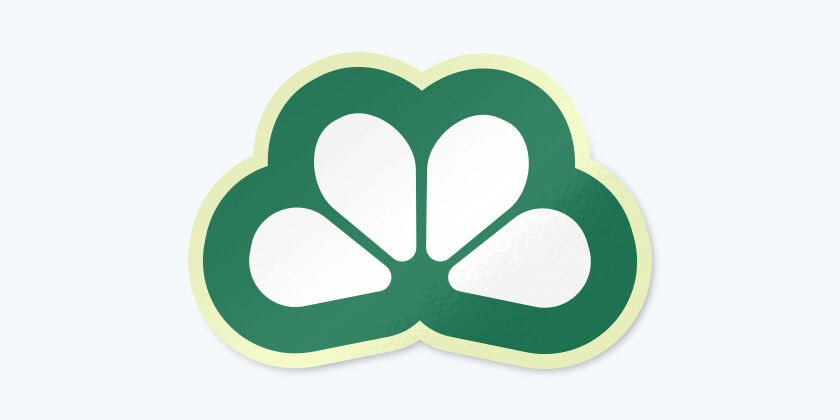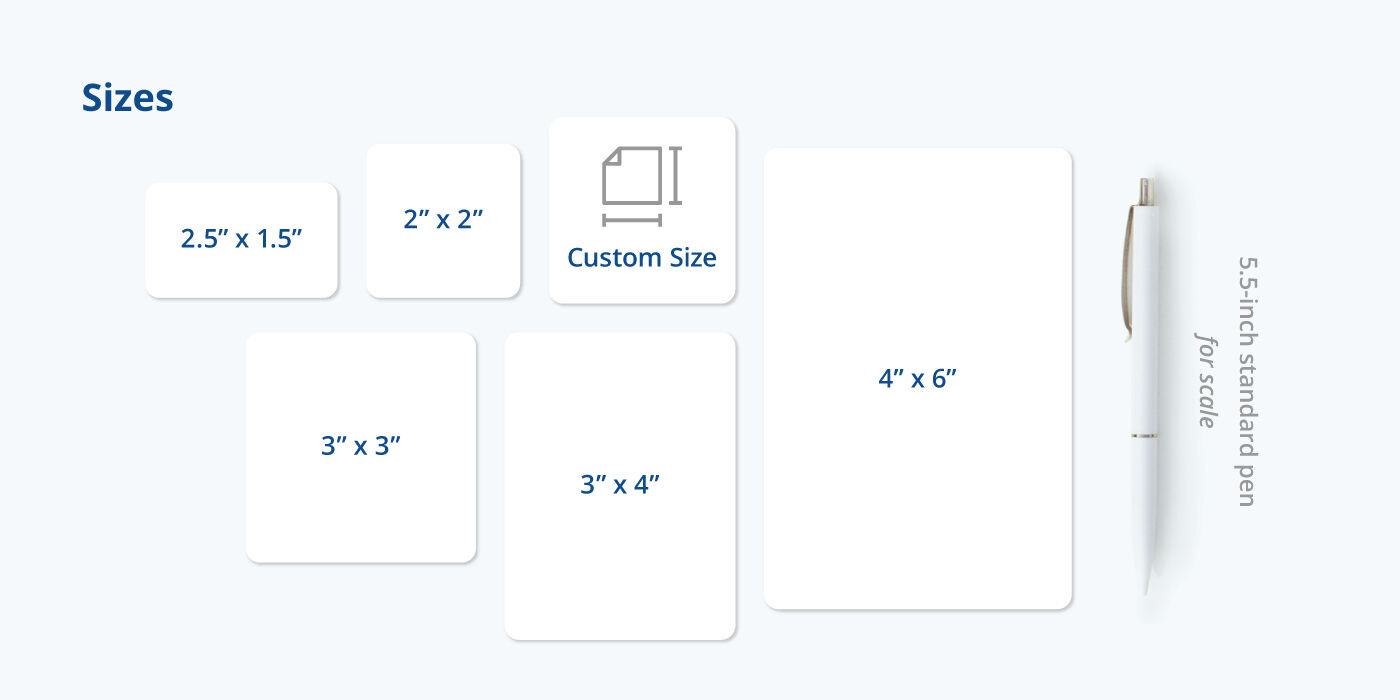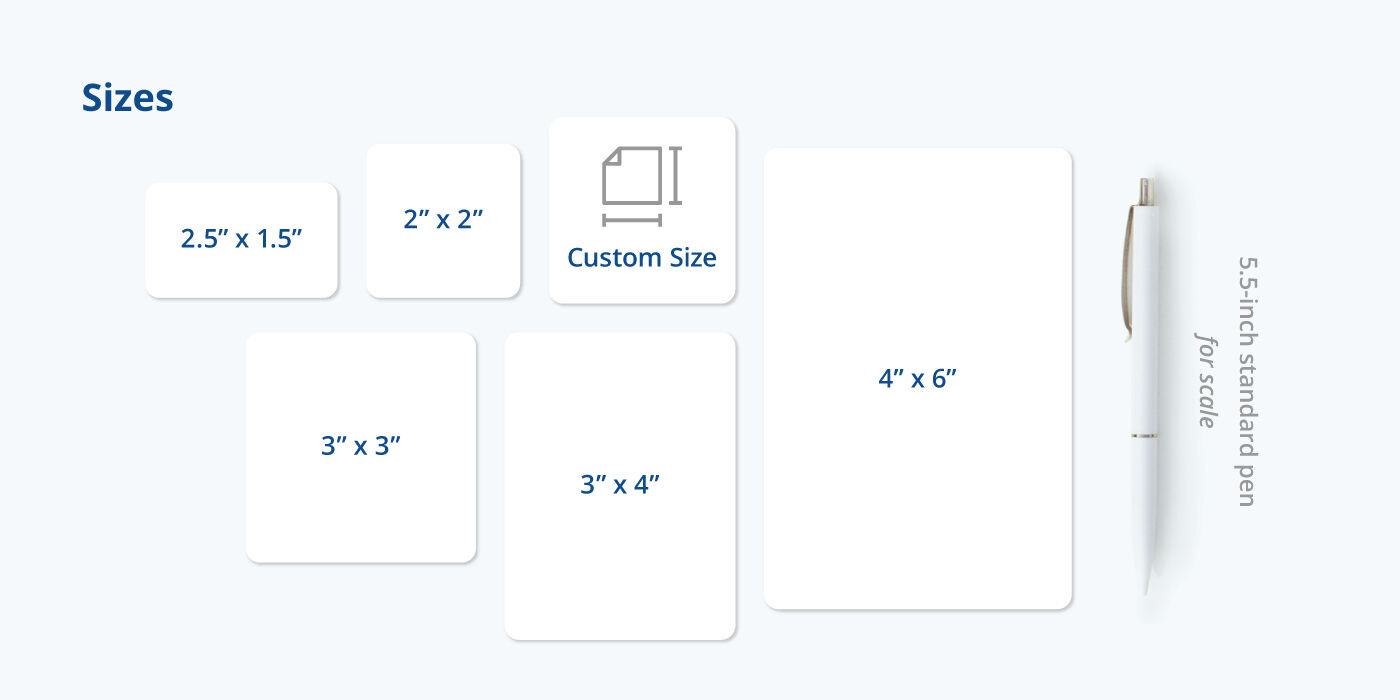 Labels are individually cut & scored

Waterproof vinyl material

We also offer Roll Waterproof Labels

Free File Check
Product Features
Great Quality

Sticks on most surface

Fade Resistant

Roll & Cut-to-Size

Bend and Peel Backing

Custom Size

Waterproof
Long-lasting Custom Waterproof Labels for All Kinds of Products
Promote your products with PrintRunner's Waterproof Labels. Our labels are designed to resist water and moisture. These are perfect for products that are exposed to damp environment - best used for products stored in refrigerators and found in kitchens or bathrooms.

You can print these water-resistant labels for marking glasses, cans, or plastic packages. You can order them for business promotions or for personal use. You can use it to promote your brand's products, or you can simply use it to revamp your belongings.

In PrintRunner, cut-to-size waterproof labels are individually cut and placed with scored liner for easy peeling. We also have kiss-cut waterproof labels, which come with a printable protective backing. These labels are not trimmed all the way through like cut-to-size, allowing you to print your logo or company name along the border.

Sheet labels is another format to consider for printing multiple labels in one neat place. To print different designs, choose custom shape. You may also print a single design only by choosing basic shapes.

You can choose from our wide variety of shapes and sizes in matte or gloss finish. Rectangle, square, oval, circle, arch, hexagon, heart, starburst, and custom shapes options are available. Choose one that works best with your design. You can opt for full color or black and white printing. Order from 25 to 50,000 pieces and have your prints shipped as fast as 1 business day. Call us at 1-888-296-5760 for 5AM - 7PM Pacific Time Monday to Friday assistance.
---
How to Print Cut-to-Size Water-Resistant Labels Online
Step 1: Use the product calculator to set your product specifications. Select the format, size, shape, material, coating, and quantity of your waterproof labels in the product calculator. Once you're done, you can instantly get the estimated total cost of your order.

Step 2: Upload your label design or use our online design tool to create one. Already have a print-ready design for your waterproof labels? Upload it on our website by clicking Upload My Artwork at the bottom of the product calculator. You can also choose to create your label design from scratch with the help of our online design tool, which can be accessed by clicking Design Your File Online. Our tool can be used to add graphic elements to your design such as images, text, shapes, lines, and colors.

Step 3: Request for a free PDF proof. Submit your finished design and request for a free PDF proof so you can do a final check of your artwork. If you are satisfied and didn't spot any errors, don't forget to approve the proof in your PrintRunner profile. Otherwise, we won't proceed with the production of your order.

Step 4: Proceed to checkout and wait for your order to be delivered.
---
Why Choose PrintRunner for Your Waterproof Labels
Top-Notch Customer Support
Any concerns and questions will be promptly attended by our customer service team. If you need assistance, you may reach us by phone, email, or through our live chat feature. Visit our Contact Us page for more details.
Hassle-Free Way to Order
With our product calculator, you can easily select the specifications for your waterproof labels, set the quantity of the labels that you want to purchase, choose your preferred turnaround time, and instantly get the total cost of your order.
Downloadable Blank Templates
If you want to create your own label design using professional design software, you can make it easier by downloading our blank templates. We offer label templates in various shapes and sizes that come with the correct bleeds and crop marks to ensure your artwork is print-ready.
---
Question and Answer
Can I get more discounts on waterproof labels with bulk printing?
Yes, you can. The higher the quantity of your waterproof labels order, the lower the unit price of the product.  
How long does it usually take to print custom waterproof labels?
It depends on the format of your waterproof labels and your preferred turnaround time. If it is cut-to-size, you can expect your order to be ready for shipping in three (3) or eight (8) business days. If it is roll, the standard printing time is six (6) business days, which can be expedited to four (4) business days if you are in a rush.

For cut-to-size, our maximum dimension is 17" for both length and width while the minimum is 2".  
How can I get the estimated shipping cost for my waterproof labels?
You can get that by using the product calculator. Just provide your zip code and click Get Rates to know the estimated cost to ship your order.  
Download Blank Print Templates
Set up your print file with correct trim and folding lines by downloading a blank template for your preferred design software. 
Reviews
February 19, 2022
by Sunni
( OR )
July 13, 2020
by Linda5886
( OR )
December 27, 2019
by DoggyMoma
Browse by Category
Featured Products