Step and Repeat Banners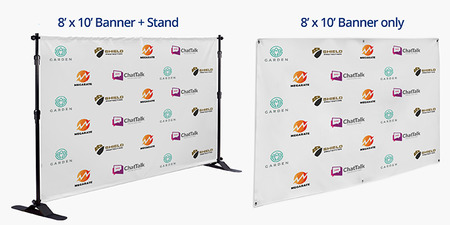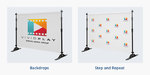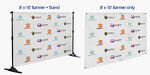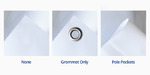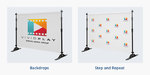 5 popular banner sizes
Available standard and matte vinyl
Optional banner stand
Product Features
Great Quality

Fade Resistant

Waterproof

Best Prices

Custom Size

Fast Turnaround
Printing Cost
$118.62
Only $118.62 each
How do you want to continue?

Design Your File Online from your desktop

You will receive a link to design your file online using the specifications you created here.
Link Sent
Check your inbox for the link so you can get started on your design project. Good luck!
Customize the Perfect Step and Repeat Banners for Your Next Big Event
Step and repeat banners
help turn any event into a memorable and photo-op filled occasion. These versatile banners are perfect for weddings, award ceremonies, and corporate events that require a good backdrop for taking pictures.
Whether it's on the red carpet or inside a trade show, step and repeat backdrops are great promotional tools that can help you attract more customers to your business. With your logo prominently displayed across the signage, the banner unobtrusively increases brand awareness.
For every picture taken in front of the banner, you can count on more people to see your logo once the photos are released to the press and social media. The event attendees are reminded of your brand and more likely to remember it next time they need your product or service.
Personalize the Important Details of Your Step and Repeat Banners
A size to fit all your sponsors' logos.
Step and repeat banners come in many different sizes. The most popular choice is 8' x 8', which is commonly used for red carpet events.
You may also use the 8' x 8' banner to showcase your brand logo for product launches, event photography, and other publicity events. The scenic backdrop also works great for parties.
We even offer custom-size banners as small as 4' x 4' if there is limited space at the event. The largest one that we can print is 20' x 8', perfect for big scale events like corporate parties.
Sturdy materials that boost visibility of your logo and partners.
Choose between standard 13 oz. or 18 oz. matte vinyl.
The standard 13 oz. vinyl offers a smooth, matte finish at a low cost for a limited budget. Spending less doesn't compromise the durability and fine finish of the step and repat banner.
The matte vinyl will help impress your clients and VIP guests at a red carpet or formal event. The smooth finish stands out under bright lights, whether in the daytime or at night. It's also guaranteed to last longer and look good as new with its tear-resistant and fungus-resistant features. If you have several events with the same sponsors, you can reuse this backdrop multiple times.
Order double-sided printing for more photo opportunities.
Don't hold up the line for photos at your anticipated event. Print on both sides of the custom step and repeat banner to increase exposure of your brand and sponsors in every photo. Your guests will appreciate having more space and time to take memories at the event.
Include accessories that aid your custom step and repeat banner's installation.
Ensure a faster setup before the event with the right finishing choice:
Grommets are holes where you can attach rope or other binding material through to secure the banner tightly.
Pole Pockets offer support for poles you'll use to hang the banners. We'll place the pockets at the top and bottom areas.
---
Why Choose PrintRunner for Your Step and Repeat Banners
Free Shipping
We offer free shipping for all orders that go above $69. You spend less on more by ordering at least one step and repeat banner.
Upload your file in minutes.
Save time and send your print-ready file directly to the PrintRunner site. We accept the following file formats:
AI
PDF
PUB
JPEG or JPG
PSD
PNG
TIF or TIFF
For high-quality print results, make sure the design meets these requirements:
Maximum file size isof 100 MB
CMYK color mode
Minimum resolution of 300 dpi
High-Quality Printing.
Our team has 25 years of experience in the printing industry. Combined with highly trained and capable staff, we also have the equipment and tools necessary to produce premium-quality print products.
Fast Turnaround Times.
Whether it's small or large banners, we can print them within a few business days. We know what it's like to run a business, so we make sure that you get your banners as soon possible. Rest assured that your custom step and repeat banners will be ready for shipping at the agreed time.
Top-Notch Customer Support.
Got questions or concerns? Our customer service team is always on standby to assist you. Contact us via phone, email, or through our live chat feature. You can refer to the Contact Us page for more details on how to reach us.
---
Customer Tips: How to Assemble Your Step and Repeat Banner
Step 1 - Lay out and connect all poles.
Step 2 - Thread vertical poles into the metal bases
Step 3 - Insert the bottom and top poles through the pole pockets of the banner.
Step 4 - Attach horizontal poles to the vertical poles and lift backdrop to standing position.
---
Step and Repeat Banners Q&As
How do I prevent glare when taking pictures in front of the banner?
To prevent glare in photos, you may opt to print the banner on a blockout 13 oz. polyvinyl film. The gray backside keeps light from reflecting back.
Can I put the 20' x 8' banner on a stand?
The largest banner size that can fit on our stands is 10' x 8'. However, we can put grommets on your banner for you to hang against a wall.

The great thing about grommets is that they are rust-resistant and won't tear the material even if you use the banner outdoors.
Can I buy a stand with my step and repeat banner?
Yes, you can include a stand with your step and repeat banner order. Select "Banner + Stand" from the "Display Options" item on the online calculator.
Can I have someone design my step and repeat banner?
Yes, you can hire a team of professional designers to create your step and repeat banner. Our dedicated design team will customize every detail and let you choose from a wide range of creative options. For more information, check out our Graphic Design Service page.
Would I be able to receive my banner the next business day?
We can print your banner within two business days if you complete your order by 5pm. This is a quick turnaround for large banners.
Advantages of Each Material
Standard 13 oz. Vinyl
Matte finish for great visibility even in bright light
Popular, economical option
Lasts 3-5 years outdoors, in temperatures as low as -4°F
Superior tear-resistance
Tensile strength: 154.2 x 137 lbs/in
Premium 15 oz. Vinyl
Matte finish for great visibility even in bright light
Strongest, smoothest and most versatile option
Lasts about 5 years outdoors, in temperatures as low as -22°F
Fungus resistance, ultimate tear-resistance
Tensile strength: 285 x 239 lbs/in
Blockout 13 oz. Poly Film
Waterproof material
Smooth surface
Bright white color
Gray backside provides ultimate opacity even in bright lighting
Hem and Grommets
To help better maintain the banner's shape outdoors, you can opt to have the sides reinforced with hemming.

Hemming is when the edges of the banner are folded over and heat welded.

Sturdy grommets are also installed in the durable vinyl material of your banners at every 2 feet, you can then attach a rope or other binding material and secure the banner tightly.
Pole Pockets
You can opt for pockets to easily support your banner through your frame's top and bottom bars.
Download Blank Print Templates
Set up your print file with correct trim and folding lines by downloading a blank template for your preferred design software. 
Reviews
5 Star

(9)

4 Star

(0)

3 Star

(1)

2 Star

(1)

1 Star

(1)
75%
of customers that buy this product give it a 4 or 5-Star rating.
March 27, 2023
by Sora
( IL )
"Came out great and the customer service was fantastic!"
My Go-To Banner Supplier
February 23, 2023
by Cheryl Mitchell
( ID )
"Fast shipping, reasonable price, and great quality! Thanks!!"
August 17, 2022
by Weaver 52
( OR )
"We need information on back drop. How soon can we get mockup after we email our ART, and how do we email our art?"
February 21, 2022
by C Mitchell
( OR )
"Great quality and fast shipping! Will order again."
November 16, 2021
by Great
( OR )
"Exactly what I expected! Came on time and was printed beautifully"
Browse by Category
Featured Products