Customized Sticker Printing
3 Easy Steps on How to Design Your Own Stickers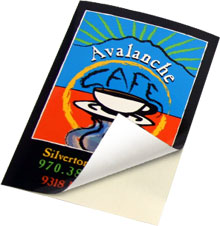 Stickers are not just for decoration for artistic purposes. They are also a powerful marketing tool that could promote your business. Promoting you brand can be easier and quite interactive through stickers. For example, you can distribute stickers containing your business or information on your products and promotions. Consumers may consciously or unconsciously put your stickers on walls, tables, and other places where others could see them. In a sense, they become your unlikely advertisers.
It is easy to design stickers and decals for marketing. However, you need to know how you can make the most out of them to be effective. Here are some tips you should take note when customizing your stickers:
Use colors and images associated with your business. In a fast-paced marketing environment, you need to have an identity by which consumers can identify you. Choose colors and images that can best describe what your business is about. Color psychology affects your target market. Red could denote energy and passion. Orange can stimulate appetite. Tech businesses mostly use blue. Find colors that would suit how you want to be perceived by your consumers. Make sure that these colors are also present in your business logos. Try to avoid unnecessary design details. Simplicity is they key for better brand recall.


Choose the ideal size and shape. Your stickers should be small enough to be conveniently distributed but large enough to contain the information that you want to communicate. The shapes also says something about your company. It must complement the design that you put within the sticker itself. Check out and compare the product specifications of your chosen printing companies for these options.


Match the quality of the design and printing. For your stickers to be appealing, you must look at how they would look like when printed. One of the most common problems with printing is low resolution on the files to be printed. It may look crisp and clear on a monitor but blurry on the print-out. Take note of the printing process too. Do not hesitate to ask your printing service provider about the technical requirements on your print file.
Sticker printing
does not need to be difficult. Just have a set goal in mind and always think of your brand's image. Using that as a guide, let your creativity flow from your ideas and create a suitable design for your customized stickers.