Customized Sticker Printing
3 Easy Steps to Customize Your Stickers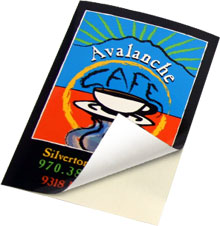 When thinking about using custom stickers for your promotions, take time to plan how to make your set look more personal and associated to your business. This will help you come up with ideal promotional tools that bring out the brand image that fits your business . Although it's quite easy to design decals for marketing, you need to know how to make the most out of your set for these to be really appealing.
There are a lot of creative ideas you could try for your prints to be the talk of town. Here are some tips you can use to fully customize and design the tools:


Use colors and images associated to your business. Make the stickers speak about your company's identity by using related colors and images. If you already have business icons, then make sure that these will be present on your tools for better branding. You must also try to avoid unnecessary design details that may create confusion on the people.


Choose the ideal size and shape. Let your design become more appealing by going for the right size and shape. There are so many choices when it comes to the look or layout so take time in choosing. You can also check out various online printing stores and compare the specifications offered for these options.


Match the quality of the design and printing. For your items to be at their best, you must always look at how these would turn out when printed. Think about how the design would fit the sticker printing service that you'll be getting. If it's full color printing, then set your project's color format to CMYK. This way, the design and printing would be compatible.
Customizing your stickers for marketing need not be difficult. Just set the goals you want to reach and always think about your business's image. Let your creativity flow in these tools for people to find the items impressive and worth the take.