Envelope Design
Quick Tips for Your Envelope Design and Printing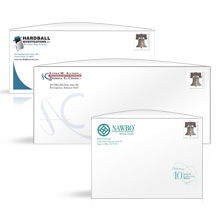 One of the marketing strategies that businesses often invest to in reaching both loyal and potential customers is direct mailing. By doing this, you have the chance of getting attention and providing yourself enough time to explain more about your offers through the letters. The only trick for your mailing strategy to be effective is investing on the look of the stationery set that includes the custom envelopes.
These envelope designs serve as a for what's inside. You need to effectively design the materials for you to trigger interest and gain the right impression. It may seem challenging especially when you want to maintain a corporate image and at the same time being enticing. To help you complete this task, here are some quick tips that you can use on the design and printing:


Identify the goal of your mailing campaign. Before you could start off with your project, you need to think about why you're planning to use these things in the first place. What is your goal? What do you want your customers to feel after seeing your mail? By answering these questions, you can create a cohesive plan that could work for you.


Strengthen branding by adding company information and visuals. It will be easier for people to recognize you by placing the necessary information and images on the envelope. Just keep in mind that what you're working on a limited space so limit the things to include. Your envelopes should include the company name, location, contact details and logo. If you have a slogan or catchy phrase that fits your business, then you may include this too.


Choose the right printer for your campaign. Research on the compatible production process to fit your envelope design and style since this can take effect on your envelopes' overall look and feel. Read the terms and analyze the printing options before starting your order. Do not hesitate to ask your service provider for printing specs you would want to know more about.
These quick tips could be worth the try if you want your envelopes to look professional and enticing. Just keep in mind to stay within the budget you allotted and to the goals you want to achieve.