Full Color Envelopes
Quick Tips for Creating the Perfect Envelope for Your Business or Event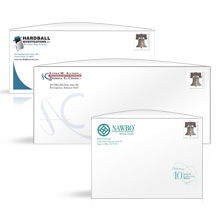 Stand out with PrintRunner's full color envelopes. Aside from their customary function of containing letters, these can also be used in many other ways such as for branding and promotions. Your envelope design can exemplify your company creativity. Envelopes are seen within offices for professional and private correspondence. When used in businesses, these may serve as covers for pay checks, reports and other confidential documents. The design of these envelopes goes together with the company stationary, usually containing logo and slogan. Personal uses for envelopes are commonly for donations and church offerings.
Here at PrintRunner, we offer 7 standard sizes for envelope printing. You may opt to pick one or go with several sizes to have the same design template to cater for different documents. Order on a minimum quantity of 250 and have your prints ready in 6 business days.
Feel free to call us at 1-888-774-6889 if you have further questions about envelope printing. We are happy to serve you.