Bookmark Design
Creative Design Ideas for Your Bookmarks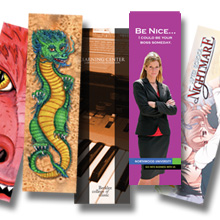 Advertise your business or advocacy with beautiful bookmark every time someone picks up their favorite book. Marketing specialists would agree that bookmark marketing is an excellent way to promote just about anything. Think of each bookmark as a 2"" x 7"" or 2"" x 6"" ad space for your business.
Quality bookmark design will help people see the quality of business you have or value of your advocacy project. Don't forget what a quality bookmarks design might do for your bottom line. What is your customer going to think when they see a beautifully printed bookmarks design? They will think quality, pay attention to detail: in other words, somebody they respect and would to business with in a heartbeat.
Our printing operation can be done on short turn-around. Whether you're looking to have a bookmarks design created to increase business or to stay competitive, Printrunner.com can help you get it done. We will be there for all your bookmark design needs.
Getting bookmarks design done right could be a great move for your business! At Printrunner.com we provide quality and affordable bookmark graphic design services. During our consultations, we want to hear from you. We will be listening and asking you questions to find out together how to make the best possible design to fit your exact needs.
We print all of our bookmarks on 14 pt. card stock and each are UV coated to further enhance the appearance of colors. UV coating provides an extra layer of protection against easily damaging your bookmarks.