Creating Bookmark Design: Starters' Guide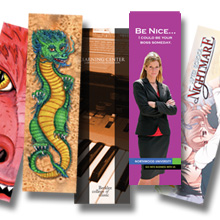 Advertising is evolving through time. Nowadays promotional tools are almost everywhere from buildings to parks and even libraries. Surprisingly, bookmarks are now used as brand promotion and branding. Traditionally known for saving the reader's page on a book, can do wonders for your company when made creatively.
If you are planning on creating bookmark sets, you should be able to apply the best design practices. This will not only help you in your marketing campaign but will ensure you that your investment on these products will be worth it. Below are quick guide to get you started in your ideal bookmark design and prints:
Size and Template Use. Before you start anything, you should be able to identify what will be the size of your bookmarks. If you have no idea of what size you want for your prints, you can check out standard sizes. To make it easier, you can start by using blank templates so that you will have an initial guide. There are free downloadable templates particular online printing company like here in PrintRunner.
Unifying Theme. When you are making a set of bookmarks, you should have a unifying theme. This will make your prints' design consistent and strengthen your branding. It is okay to check out designs online if you are still unsure of what you want. You also have the option to hire design professional so you won't have much trouble coming up with the right design.

Catchy Headline/Phrase. Catchy headline or phrase can definitely bring your bookmarks to the next level. Even with a minimalist design, taglines can add an edge to your prints. This will encourage your potential customer to keep your bookmarks.
These tips are simple but can do great help. Who knows you might just be able to market your brand using these affordable and creative bookmark prints. Read more about printing here in Learning Center