Glossy Postcards
Maximize Ways To Promote Your Brand With PrintRunner's Custom Glossy Postcards!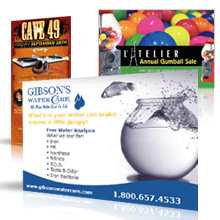 Custom glossy postcards can be the ideal tools for promotion when you want to reach your market through direct mail marketing and if you want to stick to your budget. These print products could help you push your business's presence. These can also provide more benefits that you won't get from other tools.
Maybe you're not that convinced yet, so here are the important details that would make you think about why glossy postcards should be in your list of promotional tools:




Offers more options for creative design. You have control over the size, paper and coating of your prints. You can also decide on the colors, images, text and other elements that you will put on the cards. As long as you can make your prints look professional, you can experiment on its design and make it look more special and distinct for your brand.




Provides savings from online printing services. Unlike other marketing tools that may take a slash on your budget, postcards are more cost-effective. There are online printing companies that offer these items at affordable costs, like PrintRunner. With our printing services, you could even get complimentary services like Free File Check. You could also go for our mailing services which can help you further if you plan on doing direct mailing.




Works best for wider audience. Since it's affordable when printing postcards in bulks, you won't have to worry about reaching more people and gaining added customers. You could have your custom cards done in large quantities and mail these out to your target clients. It would be easier and advantageous for you especially when you're on a tight budget, but you want to extend your marketing strategy.
Using custom glossy postcards for promotions may seem like a small move for others, but these cards can be the ideal tool to in sending out the right message. You just have to carefully plan your set and know how to gain the right impression from the people. So take time in designing your promotional materials, have these professionally printed, and market your brand to potential customers and patrons.