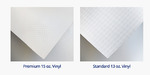 Be seen from any angle with attention-grabbing waterproof banners
Custom sizes up to 20 ft x 8 ft
Fade, wind, and tear-resistant matte vinyl
Optional grommets or pole pockets
Product Features
Great Quality

Fade Resistant

Waterproof

Best Prices

Custom Size

Fast Turnaround
How do you want to continue?
Upload My Artwork

Design Your File Online

Buy Now/
Upload Later

Design Your File Online from your desktop

You will receive a link to design your file online using the specifications you created here.
Link Sent
Check your inbox for the link so you can get started on your design project. Good luck!
Capture the Public's Attention With Vinyl Banner Printing
If you're looking for a tried-and-tested promotional tool to capture the public's attention, you'll never go wrong with a vinyl banner. Compared to other signage materials such as wood and aluminum, vinyl is much more affordable and way easier to store, display, and move. Not receiving enough foot traffic? Simply take the banner down and hang it somewhere more noticeable! Done with promotions? Either keep it for next time or surrender it to the nearest recycling center if it's just a one-time event.

Show off your vinyl banner in different ways – you can either tie it at the corners through the grommets or thread a rope or rod through the pole pockets. Its versatility certainly makes it suitable for both indoor and outdoor use!

Draw the crowd with a budget-friendly marketing material that will not back down from the blistering heat, heavy downpour, and even gale-force winds. Get your custom vinyl banners from PrintRunner today.
Customize Your Vinyl Banners in More Ways Than One
Create a one-of-a-kind banner display that will effectively make your brand stand out. Below, we list the different ways you can personalize your vinyl banners.


Go Big or Go Small
We have a wide range of sizes available for our vinyl banner printing. We also accept custom sizes so you can specify the exact amount of space you need to promote your brand or advertise your message.
Choose from 4 popular sizes: 2 ft x 6 ft, 3 ft x 6 ft, 4 ft x 6 ft, and 4 ft x 8 ft.
Submit your custom dimensions. We can accommodate up to 20 ft x 8 ft.
Print your custom vinyl banner horizontally or vertically, depending on your specific business needs.
What are the most popular vinyl banner sizes?
| | | | |
| --- | --- | --- | --- |
| 2 Foot Banners | 4 Foot Banners | 6 Foot Banners | 8 Foot Banners |
| 2 x 4 Banners | 4 x 8 Banners | 5 x 9 Banners | 8 x 12 Banners |
| 2 x 6 Banners | 4 x 9 Banners | 5 x 10 Banners | 8 x 14 Banners |
| 2 x 8 Banners | 4 x 10 Banners | 5 x 12 Banners | 8 x 16 Banners |
| 2 x 10 Banners | 4 x 12 Banners | 5 x 20 Banners | 8 x 20 Banners |
When choosing the right size for your vinyl banner printing, make sure:
the banner will fit in the space you plan to display it
the font and graphic size are legible from the farthest distance it will be viewed.
Premium or Standard Vinyl?
Vinyl is a durable, cost-effective, and versatile material that will outlast not-so-friendly weather conditions. Here's what makes our two vinyl materials extra special:
Standard 13 oz. vinyl
The popular and economical choice
Has a matte finish for higher visibility even in direct sunlight or bright light
Ideal for indoor and outdoor use (3-5 years outdoors)
Exceptional tear-resistance
18 oz. Matte Vinyl
Stronger, smoother, and more versatile option for close range viewing
Has a matte finish that is visible in bright light or direct sunlight
Perfect for long term outdoor use (lasts 5 years outdoors)
Highly durable, puncture, tear, and fungus resistant
Finishing in Style
Three finishing options are available to secure your vinyl banner printing to its mounting location:
Grommets – Also called nickel grommets or eyelets. These are fixed around the edges or corners of the banner. Pick this finishing option of you'd like to use twist ties to secure your banner to a stand or wall.
Hems and Grommets – Grommets are still placed at the corners, however, the banner edges are then folded over and heat welded to reinforce the sides. This hemming helps keep your banner in shape and the vinyl material from fraying. Best for outdoor use.
Pole Pockets – Banner edges are folded and welded to form a pocket for poles or ropes to be inserted. This finish also reduces creases and provides a solid tensioned look to your vinyl banner.
Tips for Creating the Perfect Vinyl Banners
Keep these simple tips in mind when creating your custom vinyl banners:
In or out? – Decide whether you will be hanging your vinyl banner indoors or outdoors.
Visibility is key. – Hang your banner in a strategic location that will be easily seen by your target market in any weather and lighting condition.
Highlight the essentials. – Keep it simple, but make sure to include all the important information your customers need to know. This includes your logo, company name, branding, images of products or services you offer, your message, etc.
Representation matters. – Does your banner artwork represent you and your brand? Do the colors and graphics connect your prospects to your brand and products? Do the copy and images fit your existing brand?
Our vinyl banner printing service perfectly suits any type of business. A custom vinyl banner will grab everyone's attention regardless of the size, orientation, or material you choose. Give your brand a big visual boost and better exposure. When in need of vinyl signs, let PrintRunner be your first choice for printing.


Recommended Reading:
6 Steps to a Persuasive Vinyl Banner Design
How to Use Custom Vinyl Banners to Get Your Message Across
Local Event Advertising With Vinyl Banners
How to Prepare for Your Next Trade Show

Vinyl Banners Q&As
What is the standard size for vinyl banners?

The most popular vinyl banner sizes are 2 ft x 6 ft, 3 ft x 6 ft, 4 ft x 6 ft, and 4 ft x 8 ft.
Do you accept custom banner sizes?
Are these vinyl banners fire resistant?
Vinyl is inherently fire retardant. While our vinyl banners are certified flame retardant and have passed NFPA 701 testing, we do not recommend placing your vinyl banner near a fireplace or other fire source.
I need an outdoor vinyl banner that can withstand extreme weather conditions. What material would you recommend?
18 oz. matte vinyl can last up to five years outdoors, even in temperatures as low as -22°F (-30°C).
Can I add grommets or hems to my custom banner order?
You can choose from three optional finishing: grommets, grommets with hems, and pole pockets. Adding hems to your grommets increases durability and prevents the banner from tearing or ripping.
How far away should the grommets be from the edge of the banner?
Grommets are usually 2 feet apart and about half an inch away from the edge of the banner. Check out our free downloadable templates for guidelines on the artwork layout.
Can you do prints on both sides of the banner?
Yes. Our high-quality vinyl material allows for printing on the front and back side.
Can I upload my own artwork?
Yes. Just click "Upload My Artwork" after selecting "Continue" in the order calculator. We can even review your file for free!
How do I design vinyl banners using your online design tool?
Choose "Design Your File Online" after selecting "Continue" in the order calculator. You will be redirected to our online tool where you can design your vinyl banner from scratch – add shapes, text, change colors, and even upload your own images.
Two Vinyl Banner Materials Available
Standard 13 oz. Vinyl
Matte finish for great visibility even in bright light
Popular, economical option
Lasts 3-5 years outdoors, in temperatures as low as -4°F
Superior tear-resistance
Tensile strength: 154.2 x 137 lbs/in
18 oz. Matte Vinyl
Matte finish for great visibility even in bright light
Strongest, smoothest and most versatile option
Lasts about 5 years outdoors, in temperatures as low as -22°F
Fungus resistance, ultimate tear-resistance
Tensile strength: 285 x 239 lbs/in
Reviews
5 Star

(72)

4 Star

(12)

3 Star

(1)

2 Star

(1)

1 Star

(3)
94%
of customers that buy this product give it a 4 or 5-Star rating.
April 24, 2023
by Benjamin Smith
( MI )
"I was very pleased with how our logo looked on the banner. The whole process was very easy."
December 9, 2022
by December Montecino
"This is a quality product."
November 10, 2022
by Jose Milhet
( NJ )
"FAST"
Browse by Category
Featured Products