Types of Brochures
Get to Know the Popular Types of Brochures & Their Ideal Uses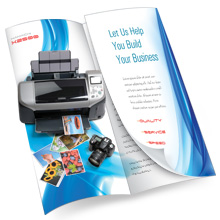 People hand out different types of brochures to attract their desired target market and gain the impression that they want for their respective businesses. Therefore, investing on the best possible brochure type in relation to your business should be a priority.
If you're not aware of the types to choose from that would fit your
brochure
set, then below is a list of the popular ones to help you decide.
Supplementary Brochures
Known as the supporting materials inside press kits or other promotional tools, these full color brochures provide additional information about a product or service. These are used by people for the target market to fully understand your business. Support brochures are also used when presenting a project or hosting a seminar; these are small enough to be brought home by your potential clients with little or no problem.
Direct Mail Brochures
This type of printed brochure is sent right at the doorstep of people on your mailing list. These would go along with catalogs, postcards, and other promotional items that could be mailed.
Before sending out your direct mail brochures, you need to compile a list of your chosen clients, whether these be your loyal customers or first-time shoppers, that would want to know more about your offers.
Promotional Brochures
If you are about to offer a huge sale or discount, promotional brochures should be a part of your giveaway items. These would not only help you spread the message, you can also leave a coupon or your contact details on the color brochures for your customer's reference. This way, they would keep your material and would possibly refer to it once they would like to try your offer.
There are still other types of custom brochures that could fit your need. Just stay focused on your plan and you can be sure that these custom materials would do their work for you.