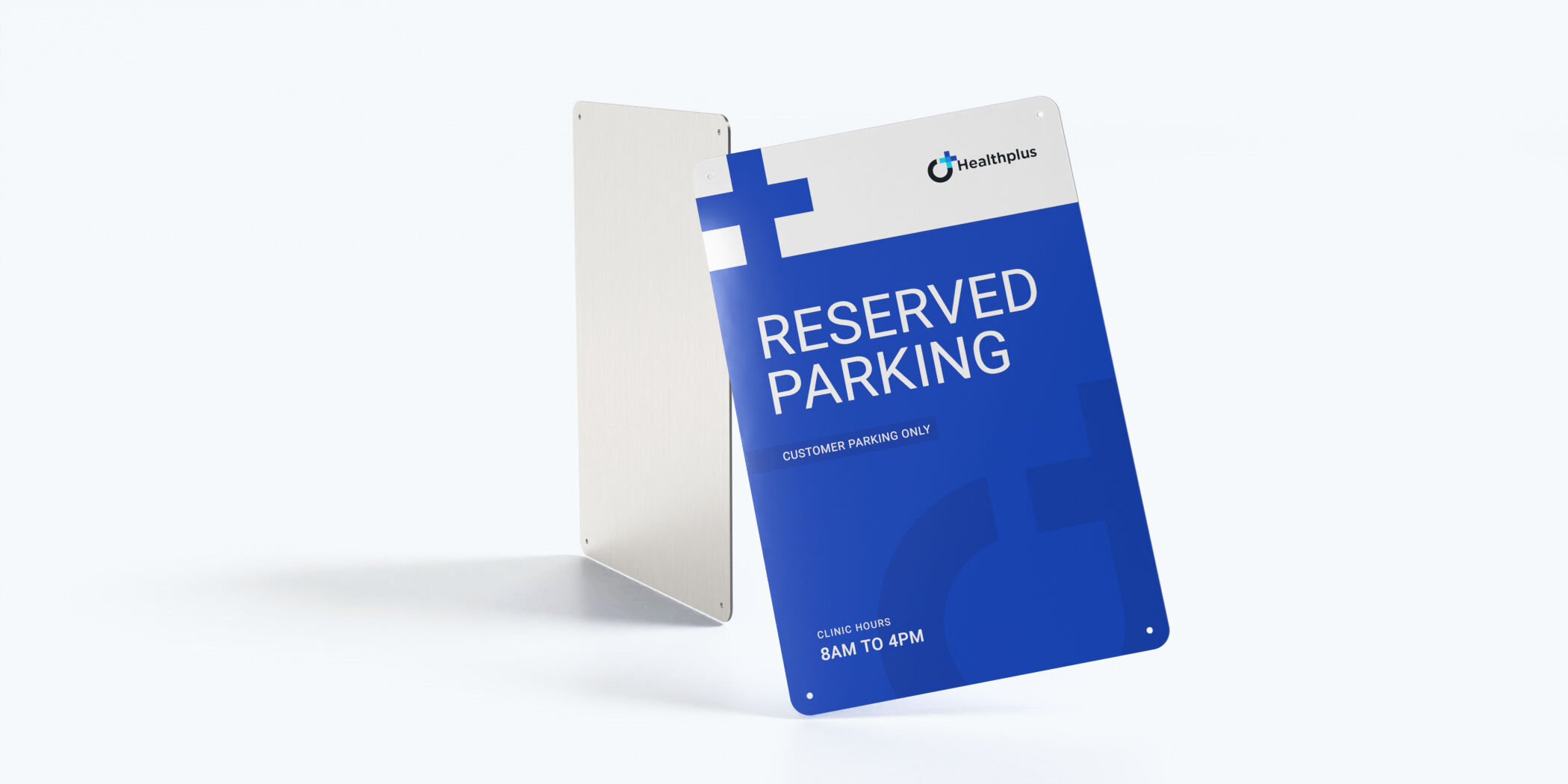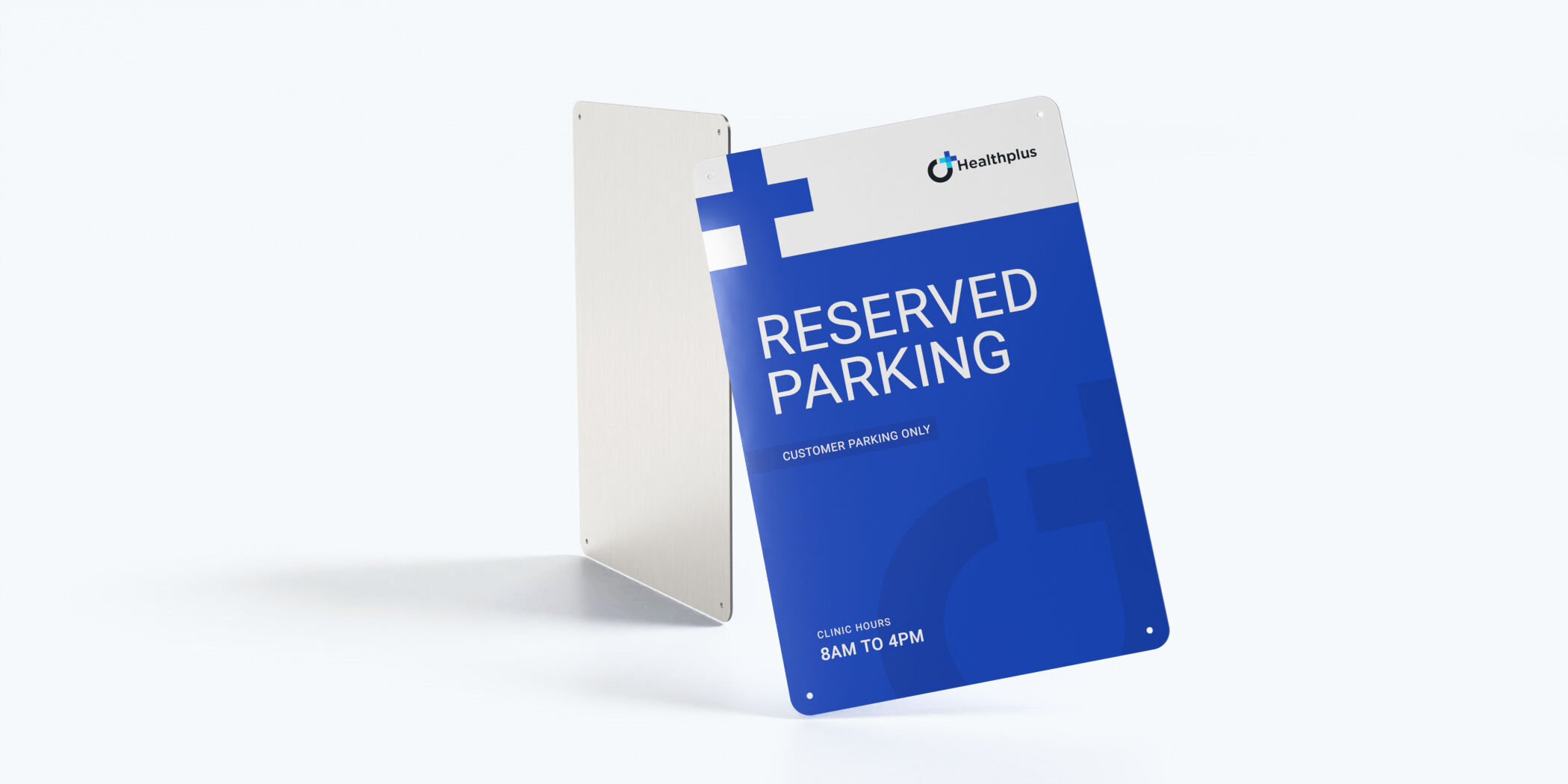 Made of strong and lightweight material

Great for indoor and outdoor use

Standard and custom shapes available
Product Features
Great Quality

Fade Resistant

Waterproof
How do you want to continue?
Upload My Artwork

Design Your File Online

Buy Now/
Upload Later

Design Your File Online from your desktop

You will receive a link to design your file online using the specifications you created here.
Link Sent
Check your inbox for the link so you can get started on your design project. Good luck!
Aluminum Signs: Advertising That Is Built to Last

Communicate your message no matter the weather condition with quality aluminum signs. Whether it's to show directions, or mark properties and parking spaces, PrintRunner is your go-to source for reliable printing solutions. Our aluminum signs are made of durable, rustproof materials that can withstand the elements – be it heat, rain, wind or hail.
These signs are also lightweight and easy to transport and set up – perfect for both indoor and outdoor use. Choose between single or double-sided printing. We use vibrant, UV-resistant inks that will make your sign last for years to come.
Types of Aluminum Material

PrintRunner offers a wide variety of material options for every business need. These are:
Aluminum Composite Options
White Aluminum Composite - Simple yet elegant, this material has a semi-gloss finish that highlights text graphics such as the company name or slogan. This material is also rust-resistant, which makes it suitable for indoor and outdoor use.
White Reflective Aluminum Composite – Subtly bounces back light thanks to its shiny surface. If you need complete visibility at any time of the day, this is the material to choose.
Brushed Aluminum Composite – Signs with this kind of material are made from a UV-printed 3mm brushed aluminum e-panel. Each panel features two aluminum sheets with a reinforced polyethylene core.
Solid Aluminum Options
Aluminum - Offers the same benefits as composite panels and it is more durable. It is rustproof and can last at least five years
Reflective Aluminum –Recommended for roadside and warning signs. It's strong and durable enough to withstand the elements, and can also be reflective.
Material
Aluminum Composite
Shape - Circle, Oval, Rectangle/Square, and Custom
Hole Drilling - 3/8"
Material - White Aluminum Composite, White Reflective Aluminum Composite, and Brushed Aluminum Composite
Width - Minimum: 4", Maximum: 48"
Height - Minimum: 4", Maximum: 94"
Coating - Gloss Lamination
Turnaround Time - 3 business days
Solid Aluminum
Shape - Circle, Oval, Rectangle/Square, and Custom
Die-Cutting - Digital Zund Thru-Cut
Hole Drilling - 3/8"
Material - White Aluminum Composite and White Reflective Aluminum Composite
Width - Minimum: 4", Maximum: 48"
Height - Minimum: 4", Maximum: 94"
Turnaround Time - 4 to 6 business days