NCR Forms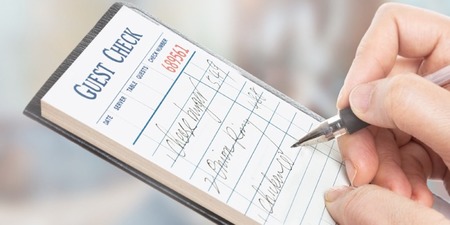 Choose from 2-part, 3-part, or 4-part Carbonless Copy Forms

Choose to have your forms glued on any edge

Choose from black or full color printing

Print on front only or front and back

Form numbering available
Product Features
Great Quality

Fade Resistant
How do you want to continue?

Design Your File Online from your desktop

You will receive a link to design your file online using the specifications you created here.
Link Sent
Check your inbox for the link so you can get started on your design project. Good luck!
High Quality NCR Form Printing for your Business

NCR (No Carbon Required) forms are sheets of copy paper that don't require the use of a separate carbon-copy paper to duplicate impressions.
It makes it easier to fill out transaction and documentation forms with several copies going to different people. With NCR forms, you just fill out the first page and the rest of the other sheets gets copies of the original.
PrintRunner prints NCR forms for your business. Four standard form sizes from 4.25" x 5.5" available.
Choose from 3 paper set options:
2-part set (White/Yellow)
3-part set (White/Yellow/Pink)
4-part set (White/Yellow/Pink/Gold)
Numbering in Red or Black ink may also be added.
You do not need to fill out multiple copies of receipts or invoices each time. Let NCR forms do that job for you. Just write once, and get all other copies instantly. Download our file templates and use it as a guide when designing. Then, upload your design file and we'll proof it before printing.
Recommended Reading
Everything You Need to Know About Carbonless Forms
Paper
Multi-Part Carbonless
20 lb. uncoated Carbonless paper is available in 2-part, 3-part and 4-part options. The colors from front to back are white, canary yellow, pink, and goldenrod. Writing or typing on the top form copies to all forms underneath.
Finishing
Binding
You can have any side (edge) bound. Choose the top, left, right or bottom.
Numbering
Carbonless forms, often used as receipts or invoices, can be numbered in red or black ink for high visibility.


Top Left
Bottom Left
Top Center
Bottom Center
Top Right
Bottom Right
Left Edge
Right Edge
Download Blank Print Templates
Set up your print file with correct trim and folding lines by downloading a blank template for your preferred design software. 
Reviews
5 Star

(11)

4 Star

(2)

3 Star

(1)

2 Star

(0)

1 Star

(1)
87%
of customers that buy this product give it a 4 or 5-Star rating.
December 27, 2022
by Susan Wood
( VA )
"Great quality and fast turnaround time. =)"
December 23, 2019
by Kite
"The NCR Forms we ordered looked great! Customer service was helpful in making sure the alignment was correct. Thank you to the wonderful staff!"
"It was very easy to place the order. The pricing was great and a very quick turn around. The quality was also very good."
November 5, 2018
by KandaJo
"We ordered one batch of work order forms for our shop to help cut down on the time we spend making copies. My uploaded file looks BEAUTIFUL on the forms and identical to the original file, really crisp and nice color. The ability to have numbers added to the forms was a huge plus as well for better tracking. A+, and the whole process was super easy!"
April 23, 2018
by ROBIN2018
"VERY PLEASED WITH PRINT QUALITY AND DELIVERY OF PRODUCT."