Custom Business Card Printing
Things to Consider When Printing Business Cards Online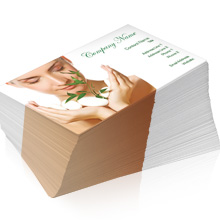 When building an image for your business, you must wisely choose and produce promotional tools that not only address your identity to, but also build connections with potential clients. Among the many print products out there, handing out professional and appealing business cards can help you achieve both.
Custom business cards are normally given out to people before parting ways with them so that they have something to bring home once you're done with your marketing pitch. This way, if they decide to purchase your product or service, all they need to do is to reach you using the contact details on the card. An attention-grabbing design for your prints also encourages people to keep your cards for future use.
If you have a design and layout down pat, you need to focus now on the production part. Given the online business card printing companies that can provide you premium services for your print product, below are things to consider in choosing your printing partner:


Check the printing options. Your cards should look like the way you imagined them to be, so always check the sizes, styles, quantities, colors or printing process to be used, and paper materials, among many others, offered by the printing company. The idea here is to see which among the printing services can give you the best and most accurate options for these materials.


Compare the offered prices. You should do a quick comparison of the offered rates. Look at what you'll be paying for like the printing, delivery fee, and other added charges. Go for an offer that you know is worth the pay.


Look for discount offers. Take advantage of discount offers or promos for bulk printing if you know you'll need a lot of cheap business cards. There are printing resources that have great deals that will give you the savings and printing that you want without compromising their quality. For example, we at PrintRunner.com pride ourselves in offering affordable and professional printing services. Try our offers and be one of our loyal customers too.
In looking for a store that could handle your custom business card printing, always check these factors to find a resource that will give you the best value for your money.