Custom Business Card Printing
Boost Your Brand Identity with Personalized Cards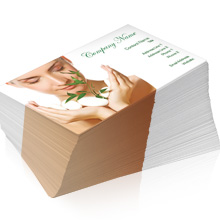 Build an image for your brand through Custom Business Card Printing. Print them as promotional tools to introduce yourself and build connections with potential clients. Market your brand by including your logo on your cards. Hand them out during business conferences and networking events.
Know the right size, shape and paper type for your cards. Create customized cards by choosing a unique and appealing design that aims to raise brand awareness for your business. Consider your business cards as a tool in attracting clients and business partners. They can be used as a conversation starter or a reference after meeting people during conventions and meetings.
For custom business card printing, you can contact PrintRunner.com. You can get standard sized cards in matte or gloss finish. Order from 25 to 100,000 pieces and get them in as fast as 24 hours. Contact us at 1-888-774-6889 or chat with our 24-hour customer service representatives.