Bulk Calendar Printing
Grab Custom and Affordable Bulk Calendar Printing for Your Business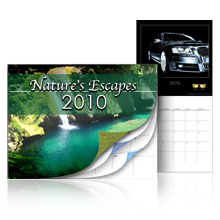 When thinking about a promotional tool that would last longer than others and would be useful for your customers all year long, calendars would always be a part of the list. These creatively designed items can provide information to people while also marketing your brand for 12 months. You can be sure that you are investing on a set of materials that would constantly remind your target market that your business has great deals to offer. You just need to make sure that you will reach all or most of your potential clients to gain good results from this investment.
At this point, printing your
calendars
in bulks would be a wise choice if you want to be able to reach more people. Even when you have to spend some of your budget on these, you can be sure that you would gain benefits for your business. Plus, you might not really have to pay a lot if you go for a reliable online printing company. The only thing that may matter here is your choice of printing partner.
It could be tricky to find the right one since there are so many online printing companies nowadays, so to make your selecting part a whole lot easier, here are some of the factors you must look at:
The Price is Right, or Even Better
The amount that you're willing to pay and is being offered to you must always match. This could apply with your bulk calendars so make sure that you always look at what you're paying for. You should also have an idea on why the pricing offered reached that amount like looking into the printing options being applied. If you could pay for it or if you would be given a chance to even save some from your budget, then it could be the ideal printing store.
With Current Printing Promos
Take advantage of promos that would help you cut your printing costs. Search for the stores with existing printing offers such as discounts or free shipping. This will help you gain more even when you'll be paying less. It's a bargain that you shouldn't miss if you've decided to get a huge set of calendars for marketing purposes.
Reasonable Rates for Shipping and Added Services
Since you are going to order your calendars online, you will have to pay for its shipping costs. You might also want to try other services offered which would be included in your total payment. At this point, you would need to make sure that the rates given for these services are worth it. Make a quick comparison to have an idea on which is the best deal.
If you would be able to find an online printing company that has all of these factors or even more, then try to contact the store and inquire about the printing job. It would be best for you to have an idea on what they could really do for you to ensure that your money won't go to waste.