Spot UV Rack Cards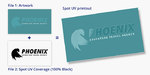 Provide more shine and attract more prospects.


Spot UV gloss highlights important details
Printed on thick and sturdy 16 pt. cardstock
Choose matte coating for maximum contrast
Product Features
Great Quality

Fade Resistant
How do you want to continue?

Design Your File Online from your desktop

You will receive a link to design your file online using the specifications you created here.
Link Sent
Check your inbox for the link so you can get started on your design project. Good luck!
Spot UV Rack Cards: A Bright Way to Spread Your Message On-the-Go
Get more traffic to your store or business when you use rack card printing with spot UV. Display them in high-traffic areas such as tourist centers, trade shows, mall entrances, or even right outside your shop. The added shine from the spot UV accents ensures your prospects will see them, grab them, and go.
Shine for Miles
Spot UV is a high gloss finish with a slick, glossy watermark effect. Highlight specific text or messaging, or draw attention to your logo. The shiny coating is smooth and silky to the touch. It also offers an interesting tactile experience that will make customers want to hang onto it.
Why print rack cards with spot UV? It's simple; they:
Are printed on thick and heavy-duty 16 pt. cardstock
Come in either matte or no coating option
Offer a high contrast when matte stock is used with spot UV elements
Have a durable spot UV layer to seal in color and protect from dirt and grease
Are tear, fade, peel, and scratch resistant.
Can be printed on one or both sides.
When your artwork for the rack card with spot UV is ready, just upload the file to our website. You can also download our free templates to help you get started on creating your custom spot UV rack card printing.
Guidelines for Setting Up Your Artwork for Spot UV Printing
To set up your file for spot uv printing, follow these important steps:
Your file should contain two layers.

One layer contains your artwork in CMYK
Another layer to show where the spot uv will be applied

The artwork and spot UV layers should align properly.
Use 100% K or black to elements for spot uv, and 0% K where spot uv is not applied.
Minimum font size is 8 pts.
Minimum strokes or borders should be 1.5 pts. thick.
Download our free file template.
If you need help setting up your file, call our customer service at 888-296-5760 or use our Live Chat.
What Material Do You Use for Spot UV Rack Cards?
16 pt. cardstock is used for printing spot UV rack cards. They are:
Half the thickness of a credit card
One of the toughest materials we offer
Looks and feels like premium material
Download Blank Spot UV Rack Card Templates
Set up your spot UV rack cards file with the correct trim and folding lines by downloading a blank layout template for your preferred design software.